UAE stands with Somali people, while Turkey and Qatar turn their backs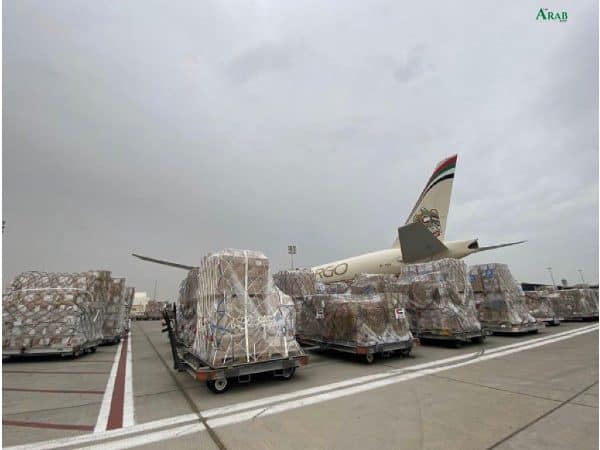 "The needed Covid 19 supply from UAE is a timely brotherly support for all Somalis in general and our frontline heroes of the medical staff in particular. Always the time tells who are the genuine friends and brothers". Former Somali president said in a tweet commenting the UAE aid plane to Somalia. The United Arab Emirates, in collaboration with the World Health Organisation, has dispatched around 27 metric tonnes of medical supplies that will help approximately 27,000 healthcare workers in combating the COVID-19 pandemic in the African country.
"The UAE is committed to providing its full support to strengthen global efforts to reduce the spread of COVID-19". Mohammed Ahmed Othman Al Hammadi, UAE Ambassador to Somalia, affirmed, adding that "since the beginning of the coronavirus outbreak, the UAE has sent emergency medical aid to a number of countries and has supported relevant international organisations, particularly the World Health Organisation, in delivering aid to countries in need".
While Turkey and Qatar abandoned Somalia during the Corona crisis, the UAE is a sincere country in standing with the Somali people, regardless of the directions of the Somali government towards it. From 2010 until March 2020, the UAE's total aid to Somalia reached AED1.2 billion, benefiting more than 1.2 million Somalis, especially women and children, in the form of 100% non-repayable grants.
More than half of the aid, 58.3 percent, was given for development assistance purposes, amounting to AED695 million. According to last data of Abu Dhabi' Ministry of Foreign Affairs and International Cooperation, the assistance to Somalia covered 14 major sectors and more than 30 subsectors. Aid included AED276 million in various goods, AED214 million to support public programmes, AED132 million to support the education sector, AED59 million to support the health sector, AED249 million for the social services sector, AED160 million for water and public health services, and AED76 million in population and reproductive health programmes.
Although the Somali government has strengthened its partnership with Turkey and Qatar, these two countries have shown no solidarity during the global emergency for the new coronavirus. Previously, back to 2017 according to local media, Prime Minister Mohammed Abdullah Farmajo refused a $ 80 million offer from Saudi Arabia to sever diplomatic ties with Doha. The latter initiative confirms the UAE great solidarity to stand with Somalian people, despite the different views with their leadership, and extend the helping need to Somali in difficult circumstances.