Is Our World In Peril And Paralyses? – UNGA 2022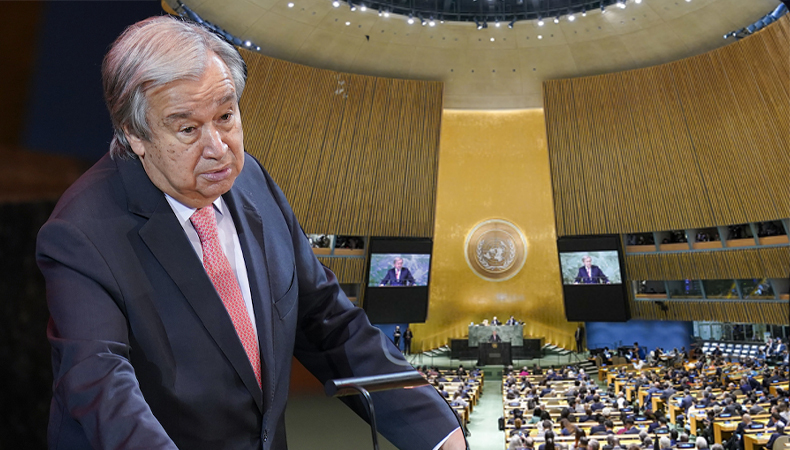 At the 77th UN General Assembly, the secretary general Antonio Guterres had the moral duty to talk about what he feels the world is facing. 'Our world is in peril and paralysed', was his message to the global gathering, expressing his concern over how troubled the world scenario remains.
Mr. Guterres drew examples from countries like Iraq, Palestine and Israel, not to mention Myanmar, Syria, Yemen, Colombia, Iran, Ukraine and others. Climate crises seems to have become an old crisis, being termed aptly as an 'existential issue' that the UN has been dealing with.
He brought into focus also how Europe is going through its most damaging 21st century war, with no end in sight, indeed, escalation at the moment seeming more likely than de-escalation.
Read : Iran and IAEA restart talks amid nuclear deal deadlock
Those that are not connected are also feeling the tremors. Indeed, the world is interconnected and there is no denying that. Food insecurity is for one, definitely there and going to stay. Ethiopia is facing it, worrying about its next meal.
In focus is the UNGA 2022, while Mr. Guterres, drew attention to various facets of the world going wrong. He drew attention to the need of education and the death of children, something we cannot ignore anymore. He drew attention to the grain problems and price escalations because of ongoing war. Everything is interconnected.
"We cannot go on like this." Whether a girl in Kandahar or a civilian in Kharkiv, too many today have life-threatening reasons to agree with him. In terms of issues, old ones and new were given equal time. He lamented the lack of a structure to deal with the seismic shifts of modern technology, from AI to social media and a breakdown in multilateralism. An older issue he referenced was the climate crisis. For many years now, it has been perhaps the most existential issue that the UN is dealing with. In 2022, Mr Guterres fears initiative is stalling: "Emissions are going up at record levels… we have a rendezvous with climate disaster."