Israel's president travels to Turkey in bid to mend ties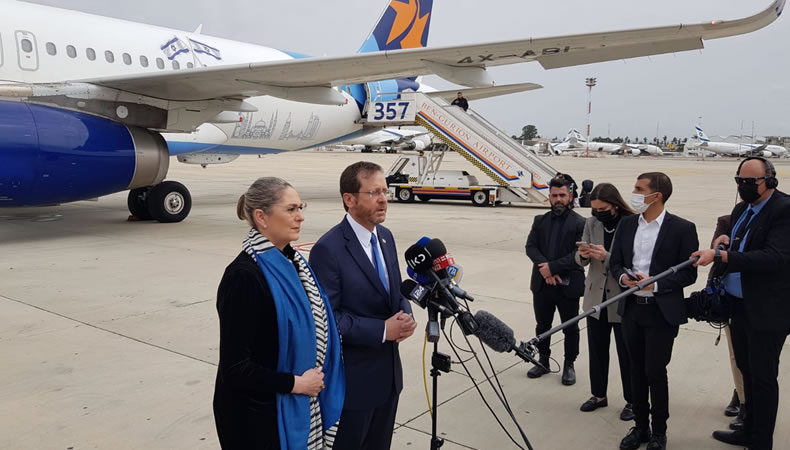 Turkey– The President of Israel, Isaac Herzog, travels to Turkey on Wednesday to mend the relationship between both countries. He became the first Israeli leader to visit Turkey in 14 years. The two countries reportedly want to improve their relations. Herzog is scheduled to hold talks with Turkish President Recep Tayyip Erdogan in Ankara to turn a new page in their troubled relationship.
Bilateral diplomatic ties and regional issues are expected to dominate the talks between Israel and Turkey. Herzog will also travel to Istanbul for meetings with Turkey's Jewish community. The Turkish president invited Herzog to improve their relations.
Turkey-Israel relationship
Turkey and Israel were once close allies. However, their relationship deteriorated after Erdogan became the president of Turkey. Both countries accused each other in recent years. Turkey traded accusations constantly over Israel's occupation of Palestinian territories. Erdogan criticised Israel's policies toward the Palestinians.On the other hand, Israel slammed Turkey for supporting the Hamas group, the militant group that controls the Gaza Strip. Israel labelled Hamas as a terrorist group.
Related Posts
The countries withdrew their ambassadors in 2010 because the conflict between Israel and Palestine resulted in the deaths of nine Turkish activists. The human rights crisis in the Israeli-occupied Palestinian territories worsened in 2009-2010. Reportedly, Israeli forces killed hundreds of Palestinian civilians. On the other hand, Hamas armed groups fired rockets indiscriminately at Israeli cities and towns. The two countries have not so far appointed ambassadors again.
Israel and Turkey formalise the normalisation process in June 2016 after many years of conflict. However, their relationship was again affected in 2017. Erdogan accused Israel of "genocide" after dozens of Palestinians were killed in the Gaza rioting. To normalise ties between Turkey and Israel, Erdogan called Herzog by phone in 2022. The two leaders held several telephone conversations in recent months. Erdogan also spoke to Israeli Prime Minister Naftali Bennett after the release of an Israeli couple, who were arrested in Istanbul on suspicion of spying.