Jordan's King Abdullah meets with Israel's Foreign Minister to discuss Middle East peace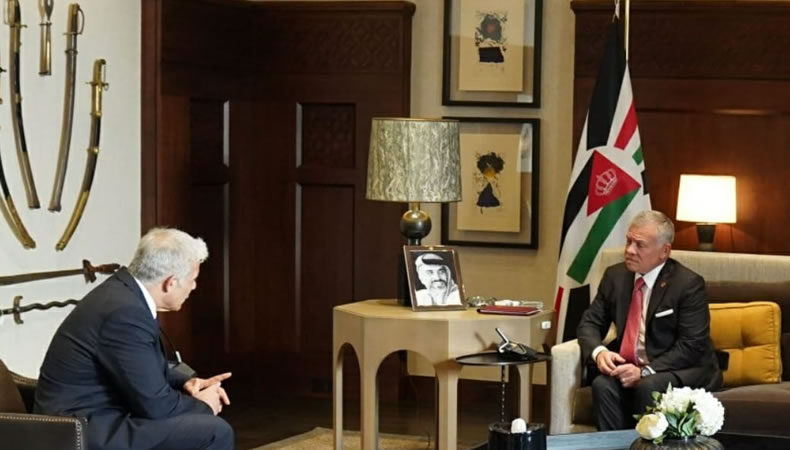 Jordan–In a rare public meeting between the monarch and Israeli officials on Thursday, Jordan's King Abdullah II addressed the possibility of resuming Middle East peace talks with Israeli Foreign Minister Yair Lapid.
According to the Royal Court, the meetings in Amman "discussed steps to restart the peace process, with King Abdullah stressing the necessity to scale up efforts to achieve just and comprehensive peace." "His Majesty reaffirmed the importance of maintaining the historical and legal status quo in Jerusalem, maintaining calm, and refraining from unilateral action that jeopardizes the two-state solution," the statement concluded.
Related Posts
"A just peace based on a two-state solution is the key to promoting regional cooperation," the report stated. Over the last two years, Israel has normalized relations with a number of Arab countries. According to the statement, the meeting was preceded by meetings between Mr. Lapid and Jordanian Foreign Minister Ayman Safadi.
Jordan's relations with Israel deteriorated during an 11-day battle in May last year between Israel and the Islamist organization Hamas, with Jordan accusing Israel for inciting the crisis by attempting to seize Palestinian homes in Jerusalem. Relations have improved since then, with King Abdullah receiving Israeli President Isaac Herzog in Amman in August. Jordan agreed to create 600 megawatts of solar electricity and export it to Israel in exchange for Israel giving Jordan with 200 million cubic meters of desalinated water in November.