Sudanese obstetrician delivers dozens of babies amid constant bombardment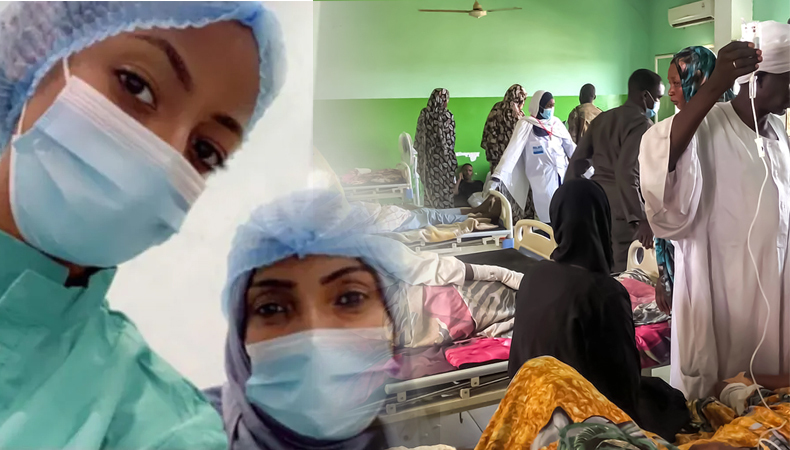 For the past three weeks, consultant obstetrician Huwaida al-Hassan and her daughters, 22-year-old medical student Zainab and 24-year-old dentist Waddaha, have been going on a short drive each morning to the Albaan Aljadid Hospital in Khartoum, the capital.
Also Read – US intelligence chief warns of 'protracted' fighting in Sudan
They have been tending day and night to chronic patients and injured civilians flooding the hospital wards since deadly clashes erupted on April 15 between the Sudanese army and powerful paramilitary Rapid Support Forces (RSF).
Despite agreeing to several ceasefires, the agreements between the warring parties have failed to hold long. More than 550 people are now dead and 4,926 others injured. And at least 60% of Khartoum's healthcare facilities have gone out of service.
With most pharmacies and hospitals shut, pregnant women in Sudan have been unable to access essential medication or healthcare facilities necessary to safely deliver their babies. Like many medics around the capital, al-Hassan has taken it upon herself to help those she can.
But a critical shortage of basic medication and equipment, and even medical staff, means the obstetrician is left to deliver an average of five babies per day with little help. Most days, there isn't an anaesthetist, proper sanitation, or dependable electricity, she said.
In addition to delivering babies, al-Hassan has also been supporting injured and chronic patients at the hospital and doing telephone consultations for pregnant women experiencing difficulties. "Staff members literally collapse from exhaustion," she added.
As the fighting continues and the number of injured entering the hospital increases, al-Hassan has been trying to focus on the positive moments. She says the delivery of every child has brought her a sense of continuity and victory.
Also Read – Sudan's fight traps African victims in endless cycle of displacement
Meanwhile, US Director of National Intelligence Avril Haines on Thursday raised warnings against the deadly violence in Sudan continuing as both parties believe they can win militarily and have few incentives to engage in peaceful negotiations.