Sudan's fight traps African victims in endless cycle of displacement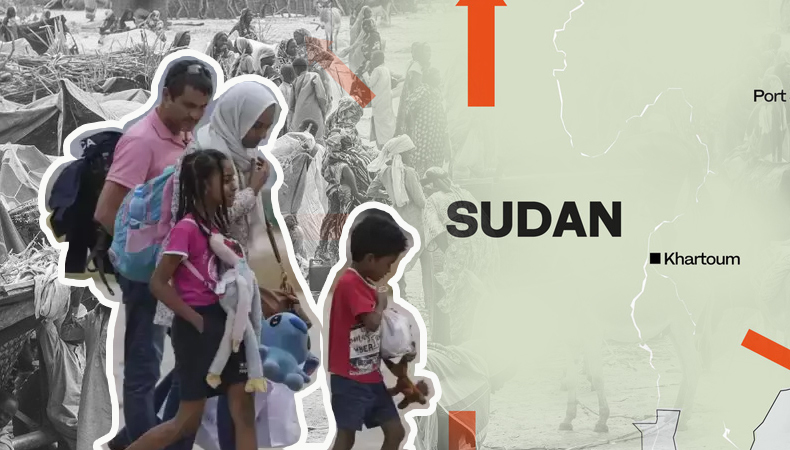 Large-scale refugee crises have afflicted the world for the past two years, from Syria and Afghanistan to Ukraine and Myanmar. The UN reported that over 100 million people were displaced globally last year. These numbers may now increase because to the battle between opposing military forces in Sudan that started last month.
Also Read – WFP Forced To Choose Ukraine Over Long Term War Refugees To Support With Aid
According to the UN, more than 100,000 Sudanese had fled their country in search of safety as of Tuesday, little over three weeks after fatal fighting between Abdel Fattah Al-Burhan's Sudanese Armed Forces and Mohamed Dagalo's Rapid Support Forces militia broke out.
Kak Ruot Wakow, a coordinator for a non-governmental organisation (NGO), recently fled from Khartoum in his employer's car and is now residing in Paloch, a city in South Sudan's Upper Nile state that has turned into a sort of way station for those displaced by the violence in Sudan.
"I didn't see any bodies, but there were some damaged tanks on the highway. Conflicts weren't happening everywhere in Khartoum when he left; instead, they were concentrated at military bases," he told Arab News from Paloch. Ruot Wakow encountered the Rapid Support Forces along the road, and they thankfully let him pass.
He claimed that the human flood flowing towards the border between Sudan and North Sudan also included Ethiopians, Eritreans, Kenyans, Somalis, Congolese, and Ugandans in addition to South Sudanese.
Other exit points in Sudan are experiencing comparable events as they develop. The situation is dire in Port Sudan, a place in the east, where both Sudanese and foreigners are swarming, seeking passage on a ship to Saudi Arabia and beyond. In temperatures above 40°C, thousands of people wait under tents for days without knowing when or even if they will be able to leave the country.
The UN predicts that as many as 580,000 Sudanese could abandon their country, with possible destinations including South Sudan, Chad, Egypt, Eritrea, Ethiopia, the Central African Republic, and even war-torn Libya, in a briefing to member states on Monday in Geneva.
Also Read – Why Is Sudan Fighting? Why Is Sudan At The Brink Of Civil War Again?
Sudanese people trying to enter Egypt at the end of last month described hectic scenes at the border, where immigration authorities were trying to process the new arrivals while they waited in the open without much food or water.