Syria, bombings and clashes in Daraa cause at least 23 deaths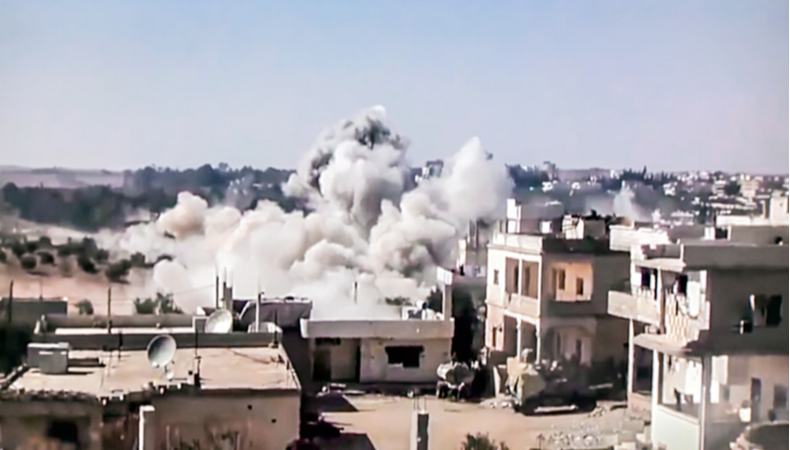 At least eight civilians, seven militiamen, and eight soldiers were killed in the bombings and clashes in the province of Daraa, in Syria, the scene of the first anti-government protests ten years ago. The Syrian Observatory for Human Rights reported that the rebels would have captured several military posts and made 40 soldiers' prisoner. According to the NGO, the death toll is destined to worsen.
According to The Guardian, Bashar al-Assad attacked a former opposition stronghold with missiles and artillery to crush a boiling insurgency.Daraa al-Balad and its environs, a district of Daraa city in the southern province of the same name, were targeted with heavy weapons in a three-axis ground attack by two divisions of the Syrian army and allied militias supported by Iran in the early hours of Thursday morning.
The major offensive continued throughout the day. In response to the bombing, rebel shooters launched counterattacks across the Daraa campaign, killing at least eight pro-regime fighters and capturing dozens of soldiers at various military positions and checkpoints, local sources said. According to residents, at least four civilians in the bombed areas were killed, and many people started fleeing.
In Damascus, as in Aleppo and much more or less essential centers of Syria, the situation remains critical due to hunger, lack of work, and health emergency exacerbated by the Covid-19 pandemic. As denounced by local NGOs, including the apostolic vicar of Aleppo and the Maronite archbishop of Damascus, the Caesar Act, which affects the population and inflation, has also been added to the ordinary punitive measures. A dramatic situation in which Pope Francis' words of solidarity and his appeals for peace take on even more value.
According to Save the Children, four years after the battle of Raqqa in north-eastern Syria, during which seized the city from ISIS, children still live in the rubble with limited access to water, electricity, and education. After the 2017 battle, thousands of people returned or moved to Raqqa, and it is estimated that between 270,000 and 330,000 people currently reside there.
According to data found in a previous survey, 36% of the city's buildings are destroyed. Still, the reconstruction and restoration of homes remain low, with children living in constant fear that their homes will collapse.In the last four years, the restoration of the buildings has not been significant, and for this reason, the children are still forced to live in the rubble of dilapidated houses.
In addition to the city destruction, three-quarters of the population of Raqqa depends on subsidies for the purchase of food and other essential goods and services. A situation further aggravated by the worst drought in the last nine years in this region of Syria. Failure to access clean water also impacts sanitation conditions, increasing the risk of disease and placing further difficulties in containing Covid-19.