Niger's military rulers look for rapid agreement with Ecowas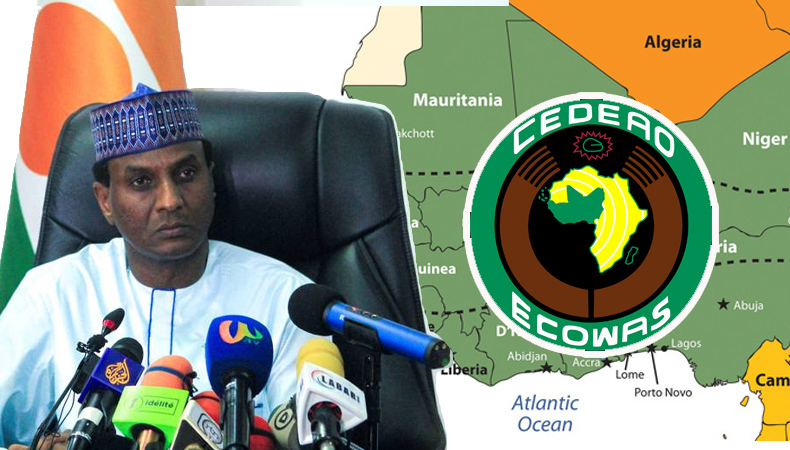 "We have good hopes of reaching an agreement with [the West African bloc Ecowas] in the coming days," Niger's military-appointed Prime Minister Ali Mahamane Lamine Zeine told a press conference in Niamey on Monday.
The Economic Community of West African States has imposed hefty sanctions and threatened military intervention after a group of soldiers overthrew the country's democratically elected president, Mohamed Bazoum, in a coup on July 26.
"It would be an unjust war. We are determined to defend ourselves if there is an attack," Zeine added. Ecowas has warned several times of an intervention to reinstate Bazoum and restore civilian rule in Niger should diplomatic attempts to resolve the emergency fail.
One of the main requirements is a timeline for returning the power to democratically elected officials. Last Thursday, Nigerian President Bola Tinubu suggested it could take nine months. Meanwhile, Niger's northern neighbour, Algeria, has proposed a six-month transition.
Keep Reading
China Hoping To Play A Mediating Role
The West African bloc has taken a hard line on Niger following a number of unlawful seizures of power in the region since 2020. The military have grabbed control in Mali and Burkina Faso, with Guinea recording a putsch in 2021 after its octogenarian president ran for a third term in office.
Zeine also said efforts were being made for a "very swift withdrawal of French forces" from the country. But he said Niger wished "to maintain cooperation with a country with which we have shared an enormous number of things".
Things started turning sour after France stood by the ousted President Mohamed Bazoum. Paris has refused to recognise Niger's military rulers as the legitimate government and ignored decisions cancelling military agreements with it.
Meanwhile, Jiang Feng, Chinese ambassador to Niger, said Beijing intended to play the role of mediator to find a political solution, in comments broadcast on Nigerien television. China remains a major economic partner for Niger, sharing vital partnerships in the energy sector.