Niger Coup: Soldiers Seize Power, Dissolve Constitution, and Detain President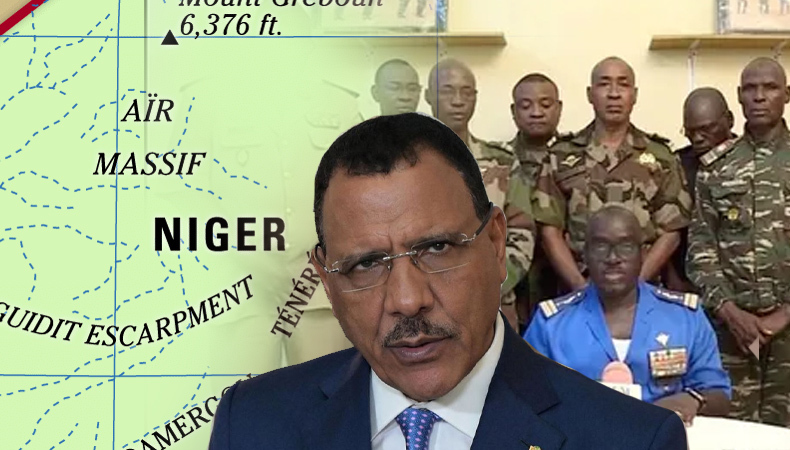 Soldiers in Niger have dissolved the constitution, closed the country's borders, detained President Mohamed Bazoum and announced a coup on national television. The president has been held by troops from the Presidential guard since early Wednesday. 
Also Read – Turkey was Forced to Relocate its Ethiopian Embassy to Kenya
The country's presidential complex was sealed off with heavily armed members of the Presidential Guard assembling outside the Parliament Palace. Around 20 members of the Presidential Guard were seen outside the complex. Hamadou Souley, Niger's interior minister, was also arrested. 
Colonel-Major Amadou Abdramane took to national television to announce the takeover. He attributed his actions to the deteriorating security situation in Niger and poor economic     and social governance. The coup leader said national institutions in the country have been suspended and the country's land borders have been temporarily closed. "All external partners are asked not to interfere. Land and air borders are closed until the situation has stabilized." Abdramane said the soldiers are acting for the National Council for the Safeguard of the Homeland (CNSP). 
In a statement on Wednesday, the Economic Community of West African States (ECWAS) said there  had been an attempt to seize power by force in Niger. "ECOWAS condemns in the strongest terms the attempt to seize power by force and calls on the coup plotters to free the democratically-elected President of the Republic immediately and without any condition." 
The White House has also condemned the coup, with national security adviser Jake Sullivan describing Niger as a critical partner. "We strongly condemn any effort to detain or subvert the functioning of Niger's democratically elected government. We specifically urge elements of the presidential guard to release President Bazoum from detention and refrain from violence." 
Also Read – The effects of Déby's death: Macron attends the funeral in Chad, while Haftar moves the Libyan armyto Southern border
Protests have broken out in Niger in support of President Bazoum, who was elected in 2021. The Presidential guards fired warning shots to disperse the protesters. Coups are not new in Niger. The Western African nation has witnessed four coups since gaining independence from France in 1960. And recently, Niger has been seeing Islamist insurgencies; militants affiliated with the al Qaeda and Islamic State are very much active in the country.