Protests in Jordan against COVID-19 curfew, oxygen shortage in hospital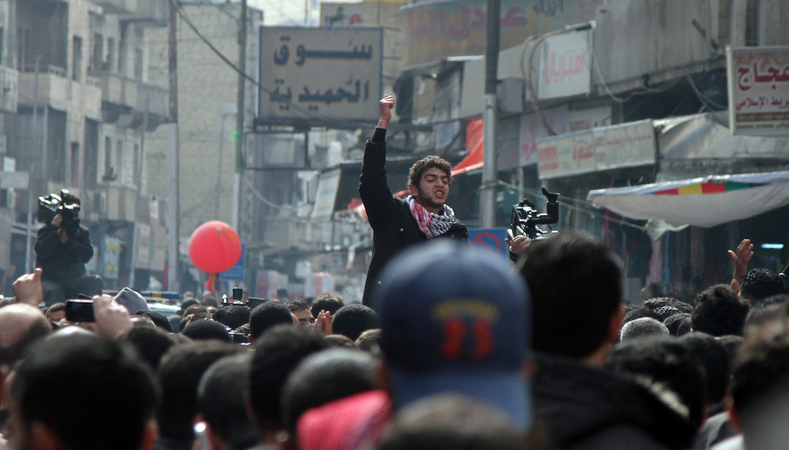 Jordan is witnessing unprecedented protests in the aftermath of the deaths of at least 8 COVID-19 patients due to a shortage of oxygen in a hospital in Salt. Hundreds of Jordanian have taken to streets in cities and provincial towns to protest Coronavirus-related restrictions imposed by the government with the aim of curbing the spread of the virus. On Monday, hundreds of people defied night curfew in the Jordanian capital Amman and other cities including Salt and Karak.
"Down with the government. We don't fear coronavirus," shouted hundreds of youth while protesting against the stringent measures undertaken by the government to stem the surge of COVID-19 infections. Several protesters are calling for the government's resignation among other demands, including removal of emergency laws.
Taking action against curfew violators, the police used tear gas to disperse protesters on Monday. According to media reports, witnesses have stated that Jordan authorities had deployed thousands of anti-riot police to tackle the protesters in several cities. The Euro-Mediterranean Human Rights Monitor issued an online statement, noting that security forces made several arrests in Amman and other cities. It further condemned the use of "suppression" by troops against protesters.
"We strongly condemn the Jordanian security's suppression of the demonstrations that took place in several neighbourhoods of the capital in demand of holding those responsible for the Salt hospital incident accountable and the termination of defence orders," the rights agency said in its tweet.
Last week, Jordan's Prime Minister Bisher Al-Khasawneh sacked his Health Minister NathirObeidat in the backdrop of increasing anger and dissatisfaction among the public over oxygen outage and the administration's mishandling of the pandemic crisis.
Responding to the protests, King Abdullah II of Jordan made a TV statement on Monday, urging Jordanians "to show patience" during the current crisis. He also vowed to hold accountable those officials whose neglect resulted in the deaths of COVID-19 patients due to oxygen shortage. Last week, PM Bisher Al-Khasawneh said that the government bore full responsibility for COVID-19 deaths at the Salt hospital, affirming that an investigation has been launched in the matter.
Amid surging infections due to the spread of mutant variants of COVID-19, Jordan had imposed new social distancing restrictions and extended night curfew in February. Strict restrictions and worsening economic conditions due to the global health crisis have triggered countrywide protests.
Meanwhile, the national vaccination campaign continues across Jordan to inoculate the 10.1 million population against the disease. As part of the COVAX initiative, the country is set to receive around 437,000 doses of the Coronavirus vaccine.