Virtual donors conference raises $1.35 billion for Yemen, hosted by Saudi Arabia and UN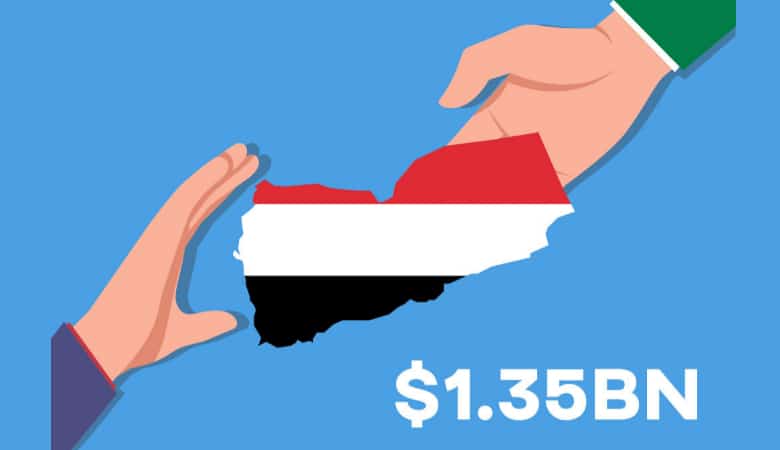 In a virtual humanitarian event hosted by Saudi Arabia in partnership with United Nations on Tuesday, international donors pledged to donate $1.35 billion as aid to Yemen.
In the conference the donors were reminded of the delicate situation in Yemen and that "time is of the essence".
UN under-secretary general for Humanitarian affairs Mark Lowcock said, "When the pledges are paid literally means the difference between life and death for countless Yemeni people." Mr. Lowcock co-chaired the conference with Abdullah-al-Rabeeah, who is supervisor general of Saudi Arabia's King Salman Humanitarian and Aid and Relief Center.
A call by UN aid workers in Yemen followed the event for an aid of more than $2.4 million as Emergency fund. This fund includes the requirement of medical supplies, food and shelter which is in dire condition, especially during the coronavirus pandemic crisis which is hitting the country hard.
Mr. Lowcock also called out to the countries who haven't pledged anything yet for the relief aid, saying that the time is crucial at this point and the humanitarian work is continuous process. "This is not the end", he said.
Due to lack of funding and money about 75% of UN programs have been suspended in the Yemen region. The relief aid fund is required by the humanitarian organizations to continue their work in the region.
The declining funds in the region is mainly because of the obstruction by Houthi rebels who control the areas around the capital Sanaa. Many UN aids have been stopped due to interferences by these rebels.
UN Secretary Antonio Guterres praised Saudi Arabia for its initiative and continuous support and commitment to the "humanitarian aid to the people of Yemen." The Kingdom of Saudi Arabia pledged $500 million during the opening ceremony of the conference to Yemen aid fund.
Melissa Fleming, the UN's under – secretary – general for Global Communications in a session post conference praised Saudi Arabia as "the largest funder of the humanitarian response in Yemen in recent years."
Yemen Prime Minister Maeen Abdulmalik Saeed thanked the Kingdom for its continuous support and contribution to the aid to Yemen. The virtual pledging conference was attended by representatives of more than 125 member nations of the UN, international organizations, NGOs, UN agencies and civil society groups.
Related News: COVID19 crisis: Businesses in Saudi sound confident as economy reopens