Handing migrants over to the Libyan Coast Guard is a crime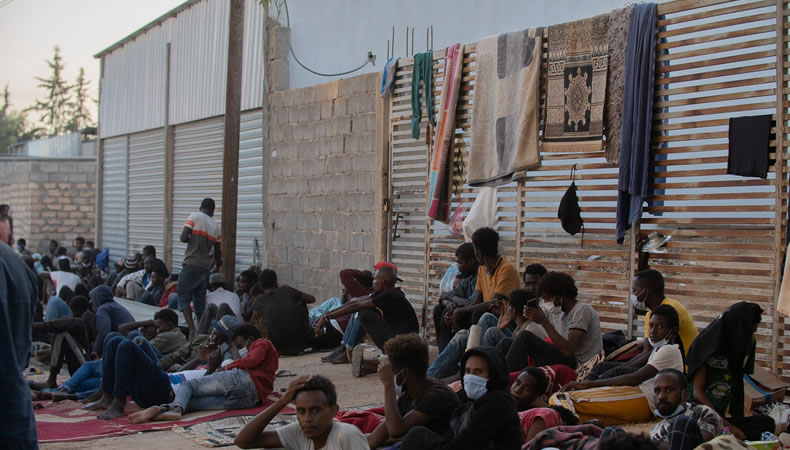 Libya–With a historical sentence, from today delivering or entrusting migrants to the Libyan Coast Guard is considered a crime: in fact, the commander of the Asso28 ship was condemned by the Italian Court of Naples because, after saving 101 migrants adrift in the open sea in July 2018, decided to deliver them to Tripoli. That is the first absolute conviction in Europe, which confirms that Libya cannot be considered or recognized as a "safe harbor" of disembarkation.
From now on, any civilian ship involved in rescue and subsequent delivery to the Libyans risks being condemned. The crime of refoulement could therefore act as a "trailblazer" for future convictions and denunciations, precisely as happened three years ago when onboard the "Open Arms" ship, also in the Mediterranean to save migrants, "strange" conversations were heard showing a series of anomalies in the management of the case. For that reason, the magistrates in Naples immediately opened an investigation with the coordination of the deputy prosecutor Falcone.
"At our request to provide us with the details of the positions, they gave us unclear information," explained the then head of mission of Open Arms, Riccardo Gatti, adding that "it was to get us away, but then we realized that something strange had happened." A historic ruling for the management of immigration the one that today involved the commander of the Asso 28, the Italian merchant ship that in July 2018 collected 101 refugee migrants, including pregnant women and minors, and returned them to a Libyan patrol boat so that they brought back, to Tripoli.
The commander of the tugboat owned by the Augusta company that supports the oil platforms off the coast of Libya – was sentenced to one year in prison by the Naples court, as Avvenire recounts. That means entrusting the castaways to the so-called Libyan Coast Guard is a crime because the North African country is not considered a haven.
A significant precedent because it clearly states that we do not play with people's lives. Everyone knows this: the shipowners of the shipping companies, the various Italian and European institutions that must, and often do not protect the weakest. And the bandits of the so-called Libyan coast guard and their fellow traffickers must also know.