Qatar caught red-handed again, dossier exposes terror funding to Hezbollah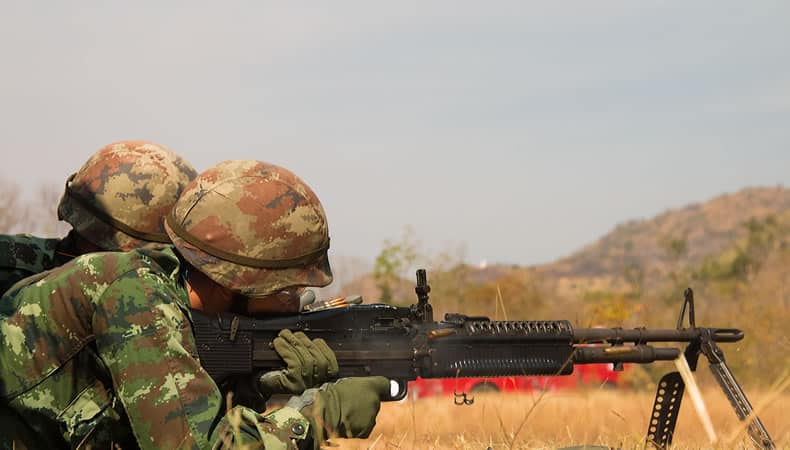 A new dossier provided by a private security contractor, Jason G., exposed how Qatari royals have been funding the Lebanon-based Hezbollah, a proscribed terrorist organisation. As per the sting operation carried out by Jason, Qatar funnelled money and made weapon deliveries to the Iran-backed radical group, Hezbollah which is known for sending its mercenaries to Syrian border in order to attack Israel.
Doha royals, who on paper claimed to be US allies, had been endangering lives of about 10,000 US troops stationed in its territory at Al Udeid, US military base, according to the new dossier. The US military base in Qatar hosts headquarters of US Central Command and to US Air Force squadrons.
The report, provided by Jason G., and verified by Fox News, said that the members of the Qatari royals family gave orders for the delivery of military armaments to Hezbollah, a US- and EU-designated terror outfit. The document suggested that the arms transactions between Qatari regime and Hezbollah had been going on since 2017.
The report also unveiled how the entire transaction was channelled through Abdulrahman bin Mohammed Sulaiman al-Khulaifi, Qatar's ambassador to Belgium and the NATO. Jason said that during his undercover mission he was contacted by al-Khulaifi with an offer and al-Khulaifi agreed to pay Jason G. 750,000 euros to hide the role of Qatar's regime in money laundering and weapons transaction to the Lebanese Shi'ite organization.In an interview with Ford News, Jason G. said that at during a January 2019 meeting with al-Khulaifi in Brussels, the ambassador said, "The Jews are our enemies."
Jason G, who is using a pseudo name to hide his identity and avoid being caught by Qatari authorities said, "[My goal was for] Qatar to stop funding extremists. [The] bad apples need to be taken out of the barrel and for [Qatar] to be part of the international community," The report was first carried out by German newspaper Die Zeit, but the Qatari diplomat was unnamed at the time.Irked by Qatar's increasing support to terror outfits in Middle East and Europe, European leaders raised a unanimous call for swift crackdown on Qatar's funding of Hezbollah.
Nathalie Goulet, a French senator who led a commission investigating jihadist networks in Europe and prepared a report for NATO on terror aid, said: "We must have a European policy regarding Qatar and especially be careful with its financing of terrorism. Belgium must ask the EU for an investigation and freeze all Qatari bank account in the meantime."
She continued, "We have to settle a general policy with a special warning and a prudent policy to prevent any financing of terrorism, especially from countries like Qatar or Turkey" that are supporting the Muslim Brotherhood and its dangerous anti-Semitic ideology.
Ian Paisley Jr., a member of the British Parliament who tracks terror finance, told Fox News that the Qatari regime conduct "outlined is outrageous and the government both in the U.K. and Belgium should act decisively." "These allegations are very serious, particularly given that the ambassador is ambassador to NATO, and this should be investigated and appropriate action taken," he said. "Hezbollah are a proscribed terrorist group in Britain and working with them can't be tolerated. I will tomorrow contact the U.K. foreign secretary and ask him to investigate these allegations and make representations to the ambassador."