Saudi Arabia and China sign $265million deal to combat coronavirus pandemic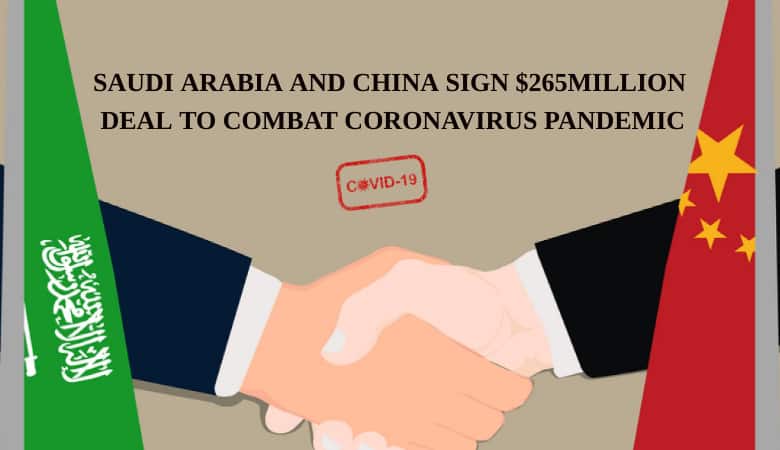 Saudi Arabia and China have signed a $ 265 million agreement under which Beijing will provide Riyadh with nine million tests to detect coronavirus, 500 specialized technicians and six laboratories. Thanks to the deal, the Saudis will be able to perform about 60 thousand tests per day after the Kingdom also purchased chemical tests and reagents from the United States, Switzerland and South Korea.
In response to COVID-19 pandemic, last week Saudi Arabia eased a 24-hour curfew except in hotspots including Islam's holy city of Mecca, where the highest number of infections have been recorded in recent days despite the city being sealed off. The agreement with China's Beijing Genome Institute (BGI) will provide for nine million COVID-19 tests, the government confirmed in a statement.
According to Saudi Press Agency the transaction with total value of 995 million riyals, also includes 500 experts, specialists, and technicians who would come from China to conduct the tests and the establishment of six large laboratories in many areas in the kingdom, including a mobile laboratory with a production capacity of 10,000 tests for day.
Earlier,Saudi Arabia suspended the "umrah" pilgrimage for Muslims worldwide, over fears of the coronavirus pandemic spreading in Islam's holiest cities. It's also expected that authorities will announce the suspension of this year's hajj, planned for the end of July, as they have urged Muslims to temporarily defer preparations for the once a year pilgrimage.
Last year, some 2.5 million Muslims travelled to the Kingdom from across the world to participate the trip that Muslims are obliged to perform at least once during their lifetime following the Quran's precepts. King Salman has warned of a "more difficult" fight ahead against COVID-19 pandemic, as the kingdom faces the economic impact of virus restrictions and crashing oil prices.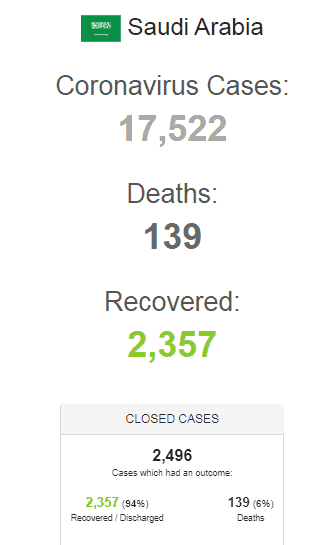 According to Worldometer there have been 17,522 coronavirus cases in Saudi Arabia, with 139 deaths while 2,357 patients have recovered so far. On March 2, 2020, the Riyadh Ministry of Health confirmed the first case of COVID-19. On April 8, as many as 150 members of the Saudi royal family had tested positive. The king's nephew, Faisal bin Bandar Al Saud, was placed in the intensive care unit at an elite hospital due to coronavirus complications. To date, the kingdom has the highest number of contagions among the Arabian Gulf states.