Syrians in Idlib and Aleppo protest Tahrir al-Sham practices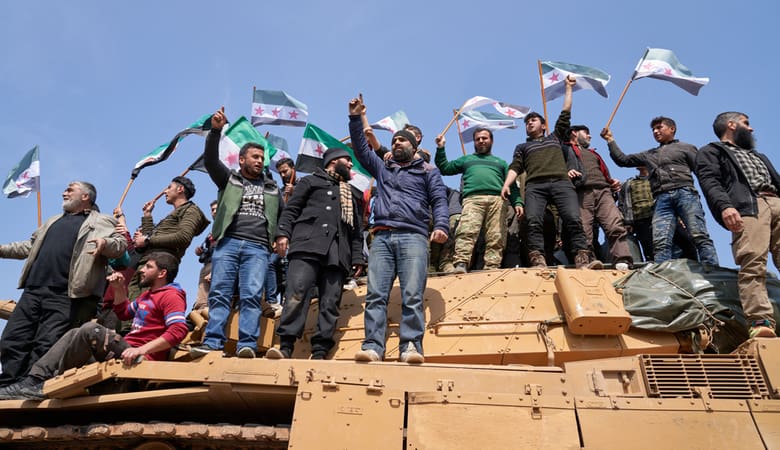 On Friday, mass protests broke out in several towns and villages in the provinces of Idlib and Aleppo to denounce the practices of the Hayat Tahrir al-Sham alliance and against the opening of Tahrir al-Sham'sheadquarters in the area. Tensions were also reported on the key M4 highway in Syria's rebel-held province of Idlib, makingproblems for boththe jihadis dominating the region and Turkish forces looking to reopen the road under a deal with Russia.
Efforts to reopen the M4 is a key condition of the deal reached by Ankara and Moscowon March 5, in Russia, as Turkish forces took on a crowd that obstructed the highway, outside a village near al-Nayrab. In the wake of the killing of two Turkish officials in a March 19 attack in the area, the Turkish opened fire on the troop, which assailed the soldiers with stones after an initial attempt to disperse it with tear gas.According to the Syrian Observatory for Human Rights, two people were killed and several injured in the battle, which was followed by a mortar attack on a Turkish outpost in al-Nayrab that left several militaris wounded. In response, two emplacements of Hayat Tahrir al-Sham have been targeted by Turkish drones killing two men.
Hayat Tahrir al-Sham (HTS), also known as the Organization for the Liberation of the Levant or Levant Liberation Committee, is an active Sunni Islamist militant group, led by Jabhat Fatah al-Sham and former Ahrar al-Sham leaders. Led by Syria's former al-Qaeda affiliate, HTS and allied rebel groups dominate large strips of Idlib province and slivers of neighbouring Aleppo.The Moscow deal calls for joint Turkish-Russian patrols along M4. Since March 15, five attempts to conduct them have failed. After negotiations in Moscow,the Turkish army reinforced its observation posts and airdropped leaflets to residents, in which it described its goal as preventing military action in Idlib, facilitating the return of displaced civilians and reviving economic activity by reopening the M4 and M5 highways.
HTS has put on appearances of readiness to cooperate with Ankara, while raising the prospect of opening commercial crossings to Government-held areas at Saraqeb, Atarib, Maarat al-Nasan and Miznaz. Yet such crossings are not directly related to the reopening of the M4 and HTS remains involved in the resistance on the road, which its media arm describes as 'honor protests'.Despite being sworn opponents of the regime, HTS on Thursday opened a crossing into government-held territory in Aleppo's western countryside, near Idlib's provincial borders.An AFP correspondent confirmed that HTS was hoping to charge fees on vehicles passing through, but the group on Friday said it would walk-back on its decision because of popular pressure.
"Mass demonstrations took place in several cities, towns and villages in Idlib and Aleppo governorates against the practices of the headquarters for HTS". The Syrian Observatory for Human Rights said on Friday, noting that protesters refused to open any trade link with the regime forces in the area.Earlier, hundreds of Syrians had taken to the streets across opposition-held parts of Idlib and Aleppo, waving Syrian revolution flags and chanting anti-HTS slogans.