Tunisia releases the media magnate Nabil Karaoui upon payment of a $ 3.7 million bail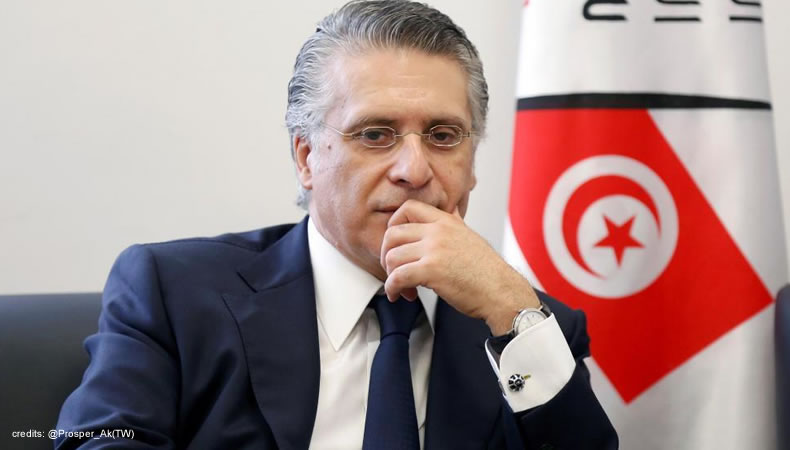 A Tunisian court has decided to release the media magnate and former presidential candidate, Nabil Karaoui, on bail of ten million Tunisian dinars (3.7 million dollars), pending the corruption trial, for which the man has always pleaded innocent. "The Tunisian judicial authority has decided to temporarily release Nabil Karoui in exchange for a financial guarantee of 10 million dinars," said Mohsen al-Dali, spokesman for the court.
Nabil Karoui, owner of the local television channel "Nessma TV" and head of the Qalb Tounes party (Heart of Tunisia), the second largest in the parliament, was arrested in December 2019 for the second time on charges related to money laundering and tax evasion. In 2019, Karoui defeated most of the presidential candidates even though he spent most of the campaign period in prison. In the end, he lost the ballot with today President Qais Saied, who won by a large majority.
Karoui's party, Qalb Tounes, which came second after the Islamist Ennahda party in the same year's parliamentary elections, joined the support of the simple majority of Prime Minister Hicham El Mechichi's government, which is locked in a power struggle with the president of the Republic. Kais Saied is the only Tunisian political actor loyal to the Constitution, trampled by the Bardo, seat of the Parliament.
Karoui is a man described by his opponents as corrupt and wrong, taking advantage of his TV channel and a charitable foundation for personal political gain. While his supporters claim that he is a patron of the poor in Tunisia. They believe that his arrest is politically motivated and a conspiracy of Islamist groups. Rachid Ghannouchi, head of the Tunisian Parliament and the wing of the local Muslim Brotherhood, Ennahdha, has been repeatedly accused of controlling the judiciary and favouring the political and social division of the country, on the verge of bankruptcy.
Yesterday, the ambassadors of the European Union (EU) invited the President of the Tunisian Republic to adopt the path of dialogue and conciliation, but Kais Saied stressed attachment to the Country constitution which he will protect with his own life. The president was the victim of an attempted poisoning last month for which extremist groups linked to Ennahdha are suspected.
The Tunis Ministry of the Interior, also controlled by the Muslim Brotherhood, concluded the investigation in a few days by stating that the anonymous envelope delivered to the Presidency bureau did not contain any toxic substances, without explaining why the officials who opened it were affected by a serious illness that made them temporarily lose consciousness and sight.