UK to announce Hamas a banned terrorist organization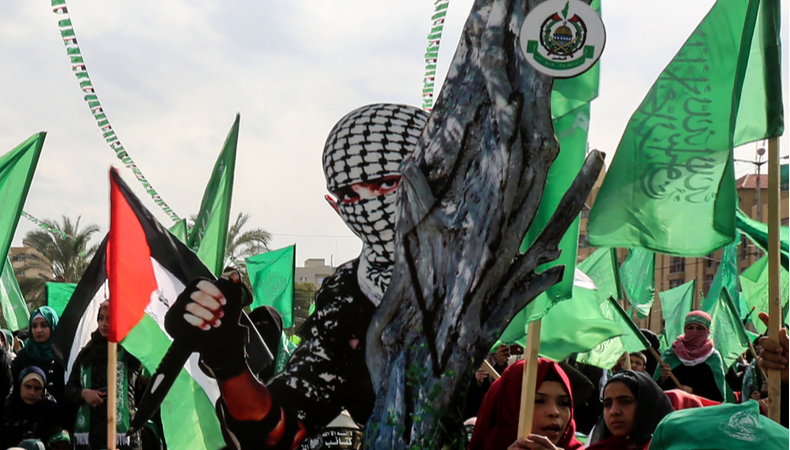 Palestine–No longer differentiating between the political and military wing of the Palestinian militant group Hamas, the United Kingdom announced that it will soon ban the complete militant organization. The announcement was made on Friday which would extend the ban on political wing of the group by UK. Since 2001 the military arm of Hamas has been banned in the UK.
Home Secretary of UK and in charge of law and order in the country, Priti Patel said that it would bar the group "in its entirety, including its political wing." "This is an important step, especially for the Jewish community," Patel said during a speech in Washington. "Hamas is fundamentally and rabidly antisemitic." She added that the group had "significant terrorist capability, including access to extensive and sophisticated weaponry, as well as terrorist training facilities."
The ban, if passed in the British Parliament, would make it illegal for any person in UK to become a member of the Hamas group, or express support to group, including waiving its flag. The penalty would include maximum of 14 years in prison. Patel said that she is hopeful of bill getting passed in Parliament this week and implemented by November 26.
Hamas group's military wing controls the Gaza Strip and is already proscribed by the UK. Israel, USA and European Union have already banned the terrorist organization. Since 2007, Hamas has governed the Gaza Strip, a year after winning Palestinian election.
The decision by British government has been welcomed by Israel. Defense Minister Benny Gantz said it "sends a strong message of zero tolerance toward terrorist activities aimed at harming the State of Israel and Jewish communities." Hamas, on the other hand, has expressed dismay and disapproval on UK's decision.
"The U.K. government should have apologized for its historic sin against the Palestinian people," the group said in a statement. "Now, the U.K. government sides with the aggressor against the victim." Under the Terrorism Act 2000 of United Kingdom, the home secretary may ban an organisation if she deems it is linked to terrorism.