Biden Invites Netanyahu to US; expresses concern about judicial overhaul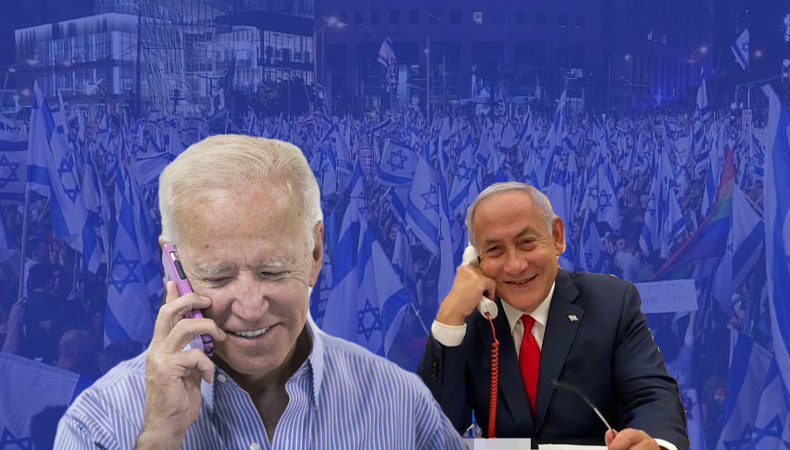 The President of the United States, Joe Biden, invited Israeli Prime Minister Benjamin Netanyahu to the United States for a meeting in the coming months. However, he still expressed concern about Netanyahu's controversial plans to overhaul his country's judicial system.
Also Read – Joe Biden urges Israel's PM Netanyahu to abandon judicial overhaul
On Monday, Biden held a telephone conversation with the Israeli leader. They discussed ways to strengthen the U.S.-Israel alliance as well as threats from Iran. 
The Israeli government said in a statement, "The Prime Minister responded positively to the invitation from the US President. It was agreed that the Israeli and U.S. teams would coordinate the details of the meeting."
John Kirby, the United States Navy serving as Coordinator for Strategic Communications at the National Security Council in the White House, said that Biden expressed concern to Netanyahu over the Israeli judicial plan. Biden reportedly urged the "broadest possible consensus" over the plans to overhaul Israel's judicial system.
The White House reportedly said that President Biden "expressed concern about continued settlement growth in the West Bank." Biden reportedly urged all parties to refrain from further unilateral measures.
Meanwhile, Biden is set to meet with Israeli President Isaac Herzog on Tuesday. The two leaders reportedly want to discuss ways to advance freedom and security for Israelis and Palestinians. 
The Israeli President's visit comes a day after the US President spoke with Netanyahu by phone and invited him to the U.S. On Wednesday, Israeli President Isaac Herzog will also address a joint session of the United States Congress in order to celebrate 75 years of Israel's independence.
Also Read – Joe Biden Confronts Saudi Crown Prince Over US Journalist Khashoggi Murder
According to reports and sources, Biden will talk about the judicial overhaul plans in his meeting with Herzog. They will also discuss the nuclear agreement between the U.S. and Iran. The Israeli President will also meet with other senior government officials.