Britain's tough talk on Brexit deal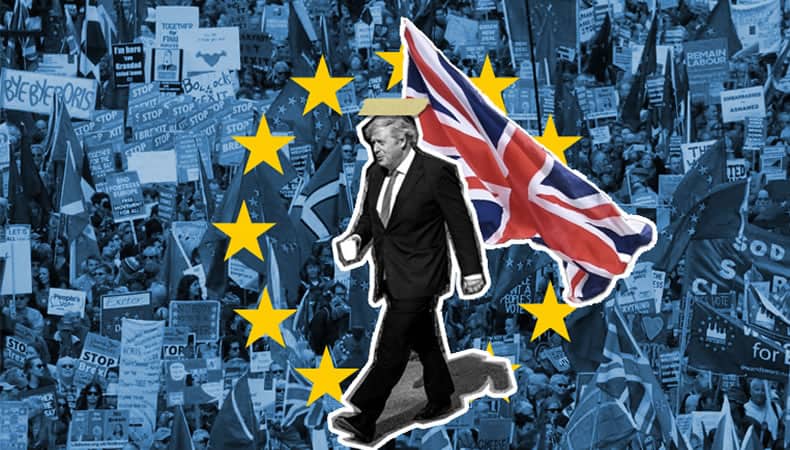 British Prime Minister Boris Johnson has given the EU just five weeks to finalise the Brexit deal, failing which Britain is prepared to go forward with no deal at all.
With talks between the EU and Britain in a deadlock, British Prime Minister Boris Johnson has said that his country won't be the first to blink. If the EU isn't prepared "to rethink their current positions", Britain would be prepared to walk away from the talks. He said that a no-deal exit would be a "good outcome" for the UK and preferable to being "locked into the way EU do things". He has given the negotiating teams until October 15 to arrive at a workable deal, lesser time than EU had allowed for itself.
Three and a half years after the referendum, Britain left the EU on January 31 this year. The economic break, when Britain leaves the EU's single market and customs union, will come after a 11-month transition period which ends on December 31. Without a deal, new tariffs will come into force between the UK and the EU bloc, its largest trading partner. Johnson says even a bread and butter deal like the one the EU has with Australia would suffice for Britain's prosperity.
EU has accused Britain of not negotiating seriously. The UK's chief negotiator David Frost and his EU counterpart Michel Barnier are due to meet starting this week for the eighth round of negotiations. The EU wants to arrive at a deal before November to give itself time for parliamentary approval and legal vetting. But the negotiations are still stuck at key issues like EU's fishing access in UK waters and state aid to industries. While the EU wants to ensure a level playing field, the UK accuses it of making demands of it that other free trade partners like Canada don't have to adopt.
Barnier has said he is "worried and disappointed" at the lack of progress and accused the UK of "not engaging constructively". Johnson has meanwhile made it clear that if there isn't a deal before the specified time, they would just have to accept that there isn't going to be a deal at all and move on. France has said Britain is trying to drive a wedge between the members of the EU on various issues like fishing. French Foreign Minister Jean-Yves Le Drian said that talks were "not going well" and they want a deal on "the basis of their mandate".