Controversy Erupts as Protesters Clash over Elementary School's Pride Month Event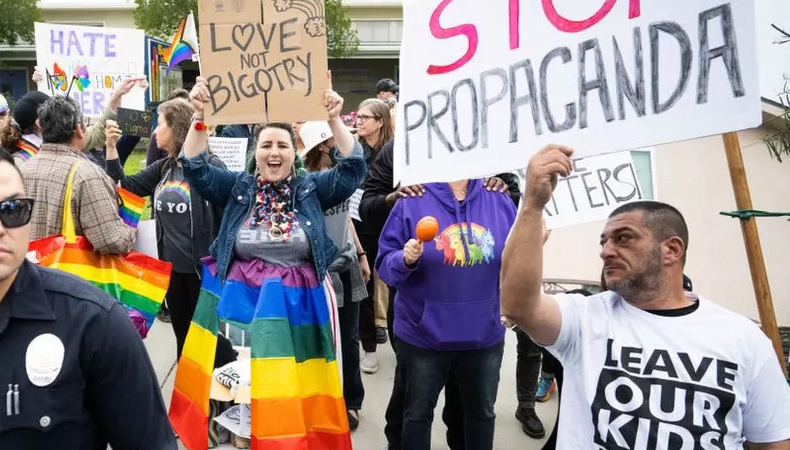 A peaceful suburban neighbourhood in Los Angeles was marred by division and conflict as over a hundred protesters and counter-protesters faced off on opposite sides of the street outside Saticoy Elementary School. The catalyst for this clash was the school's decision to host a Pride Month event, which sparked contrasting views among parents and community members. As tensions escalated, police had to intervene when a physical altercation broke out, resulting in minor injuries. The incident sheds light on the ongoing cultural battle surrounding the teaching of gender and sexuality in schools, even in a liberal city like Los Angeles.
Also Read – A Look at Erdogan's Policies and Their Impact on the World
Divergent Perspectives
On one side of the dispute were parents who felt strongly that the Pride event was an act of "indoctrination" and deemed it inappropriate for children. They organized a boycott, urging other parents to keep their children at home during the event. Some critics accused them of discrimination based on the content of their signs, which included slogans such as "No sexual indoctrination!" and "The only people who want to teach kids sex: Pedophiles." These parents argued that schools should obtain parental consent before discussing LGBT issues in the classroom.
On the opposite side, counter-protesters waved Pride and transgender flags, advocating for inclusion and celebrating diversity. They contended that teaching children about different types of families, including those with same-sex parents, is a reflection of the reality of American society. Supporters of the event argued that shielding children from these realities could lead to a lack of understanding and empathy in the future.
The Pride Event
According to Renato Lira, the director of the San Fernando Valley LGBTQ Center, the Pride Month event at Saticoy Elementary School aimed to promote love, respect, and unity. Educators read from a book that highlighted families of different cultures, including families with same-sex parents. Lira emphasized that the children enjoyed the event, and it was an opportunity for them to learn about diversity and different family structures. He condemned the parents who protested, accusing them of attempting to bully the LGBTQ community.
Escalation of Tensions
The controversy surrounding the Pride event escalated further when a transgender teacher at Saticoy Elementary reported that a Pride flag in his office had been burned. This incident occurred shortly after a conservative-leaning Instagram account shared alleged pre-transition and post-transition photos of the teacher. The flag-burning was being investigated by the Los Angeles Police Department as a hate crime. The United Teachers Los Angeles union condemned the incident, referring to it as an act of bigotry that violated the privacy and identity of the teacher.
Also Read – New collaboration guidelines are introduced by the World Bank Group for Egypt
The clash between protesters and counter-protesters at Saticoy Elementary School illustrates the ongoing cultural divide surrounding the teaching of gender and sexuality in schools. While gay marriage has gained widespread acceptance in recent years, the discussion of these topics in an educational setting continues to generate controversy. As communities grapple with differing perspectives, finding common ground and fostering understanding remains a challenge. The incident at Saticoy Elementary highlights the need for open dialogue and respect for diverse viewpoints to bridge the gaps in society.