Cyclone Mocha causes havoc in Myanmar, kills 3.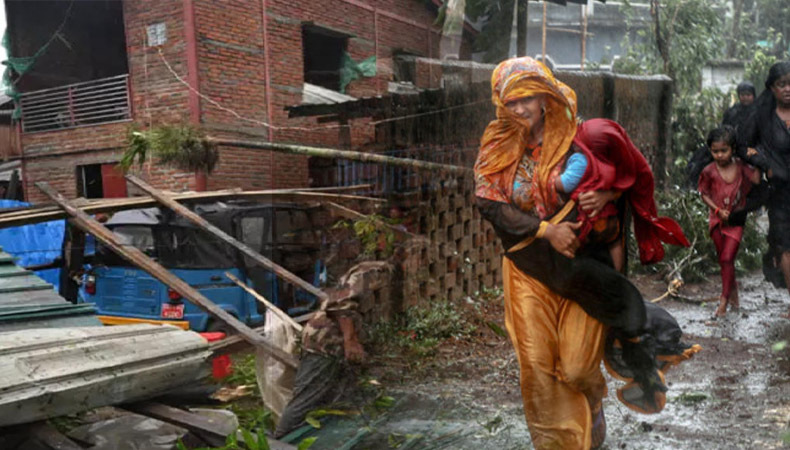 A strong storm that hit Myanmar's shore on Sunday, knocking off roofs and killing at least three people, left thousands of people stuck up in temples, pagodas, and schools.
Also Read – Iranian AK-47s seized by US Navy to arm Yemeni militants
Cyclone Mocha, which had wind gusts of up to 209 kilometers per hour (130 miles per hour), made landfall in the Rakhine state of Myanmar on Sunday afternoon near the township of Sittwe, according to the Meteorological Department of Myanmar. Before making landfall, the storm avoided Bangladesh's coast by passing over Saint Martin's Island, where it had previously caused damage and casualties.
The extent of the destruction in Sittwe remained unclear when night fell. High winds earlier in the day toppled mobile phone towers, shutting down connections across a large portion of the region.
Deep water surges through streets in footage gathered by local media before communications were cut off, while wind torches trees and rips roof shingles off.
In low-lying regions, residents were trapped in their houses while frightened relatives outside the township pleaded for help, according to Rakhine-based media.
According to Myanmar's military information office, the storm in Sittwe, Kyaukpyu, and Gwa townships destroyed homes, electrical transformers, mobile phone towers, boats, and lampposts. It said that the storm also destroyed sports facilities in the Coco Islands, which are located 425 kilometers (264 miles) southwest of Yangon, the largest city in the nation.
According to Tin Nyein Oo, a volunteer at shelters in Sittwe, more than 4,000 of the 300,000 inhabitants of Sittwe were evacuated to neighboring towns, while more than 20,000 people were taking refuge in strong structures including monasteries, pagodas, and schools situated on the city's hills.
After more people than anticipated came, according to Lin Lin, the chairman of a local humanitarian organisation, there was not enough food in the shelters in Sittwe.
"Mocha has made landfall," tweeted Titon Mitra, the UNDP representative in Myanmar. 2 million individuals are at risk. Large-scale losses and damage are anticipated. We need unrestricted access to all impacted communities in order to respond, and we are prepared.
The military administration of Myanmar is getting ready to send food, medication, and medical professionals to the storm-devastated area, according to official media in Myanmar. After pummeling Rakhine, the storm weakened and was expected to make landfall on Monday in the central areas and the northwest state of Chin.
Also Read – Google Doodle Marks Earth Day 2022 With Stark Images Of The Effects Of Climate Change
The remains of a couple who were buried when a landslide brought on by heavy rain struck their home in Tachileik township were found, according to a rescue team from the country's eastern Shan state, which made the announcement on its Facebook social media page.
In the Pyin Oo Lwin township, which is located in the central Mandalay region, a man was reported to have been crushed to death when a banyan tree fell on him.