Cyprus Explores Alternative Pipeline Plan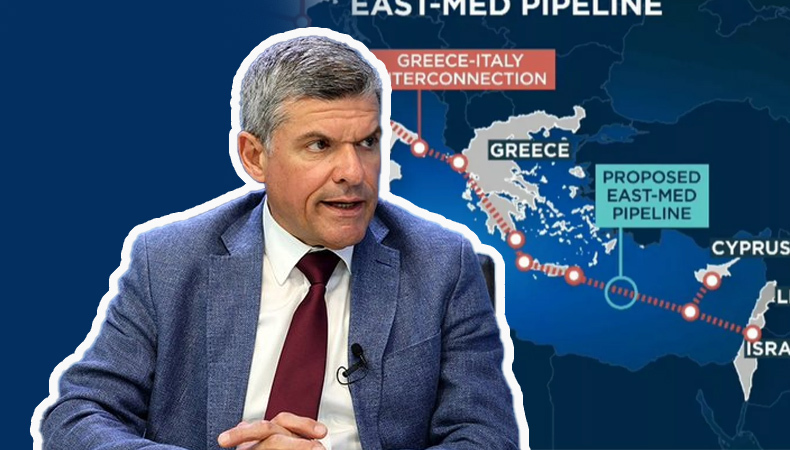 The new centrist Cypriot government is attempting to build plans for a pipeline that would link it to Israel's east Mediterranean gas fields, signaling a dramatic shift in approach. The present administration is suggesting a shorter pipeline connecting Cyprus to Israel, in contrast to its predecessors who concentrated on the mammoth EastMed pipeline project to send gas to Europe. This article examines the rationale for this novel strategy as well as the advantages and disadvantages of the alternative pipeline layout.
Also Read – Tons of oil off Syria costs risk to flood Cyprus
The quicker and more affordable pipeline route would benefit both Cyprus and Israel, according to the current government, which took office in March. Cyprus would have direct access to gas deposits off the coast of Israel thanks to the proposed 300-kilometer pipeline. This alternate strategy makes it possible to export the LNG to Europe after being transformed into liquefied natural gas (LNG) in Cyprus. Particularly in view of Russia's actions in Ukraine, which have affected gas deliveries to Europe, the finding of huge gas deposits in the eastern Mediterranean, especially off the shores of Israel and Egypt, has attracted major interest.
This new project has been led by energy minister George Papanastasiou, a seasoned professional with nearly four decades of expertise. He believes that the strategy will benefit Israel and Cyprus equally. The EastMed pipeline, which has been discussed for almost 10 years between Israel, Cyprus, and Greece, still faces several obstacles, according to Papanastasiou. Consideration of other solutions has been prompted by elements including the high expense and technical challenges of constructing the pipeline in deep-water regions.
There are various benefits to the proposed pipeline that would connect Cyprus and Israel's gas fields. In addition to being closer and taking less time to build, the project gives Cyprus access to low-cost gas deposits. Additionally, it gives Israel a another gas export market to bolster its current agreements with Egypt. Both Israeli Prime Minister Benjamin Netanyahu and Cypriot President Nikos Christodoulides have endorsed this proposal, pointing out the potential advantages it may offer for their respective countries.
The alternate pipeline idea will proceed with the help of two technical committees made up of experts from both nations, who will start talking in July. While the second group looks into potential in the electrical sector, the first committee will concentrate on gas and hydrogen. Another significant factor is that the pipeline's ability to transport hydrogen, which is regarded as a clean fuel, qualifies it as a project for future financial support from organisations like the European Investment Bank (EIB) and the European Bank for Reconstruction and Development (EBRD). The ability of the pipeline to support hydrogen transportation is consistent with the institutions' shift away from supporting projects utilising fossil fuels and the rising importance of green energy efforts.
Cyprus and Israel are looking into the possibilities of accelerating the linking of their electrical systems using a subsea cable in conjunction with the pipeline project. The exchange of electricity between the two nations would be facilitated by this connectivity, which would improve regional energy cooperation.
Also Read – Turkey Refuses Federation System In Cyprus
The new strategy adopted by Cyprus to build a pipeline connecting it to Israel's east Mediterranean gas fields constitutes a change from earlier proposals. The planned shorter pipeline has a number of advantages, including giving Israel another export route and giving Cyprus more affordable gas access. The EastMed pipeline, which has been discussed for ten years, faces difficulties that are addressed by the alternate proposal. The project is well-positioned for future financial support due to the engagement of technical committees and the pipeline's capacity to accept hydrogen transit. Additionally, the possible linkage of electrical grids makes regional energy cooperation even stronger. The next talks between Israel and Cyprus are essential steps towards implementing this alternative pipeline concept and developing stronger connections in the energy industry.