Horrible! Sudanese Women On a Desert Journey After Being Deported From Tunisia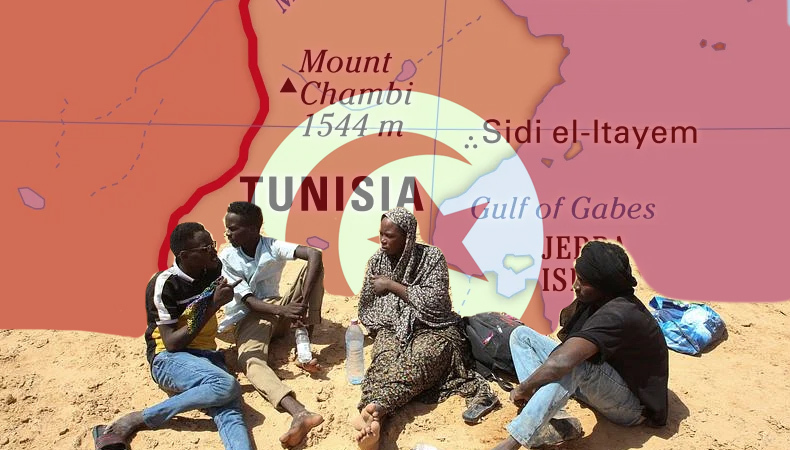 Tafaul Omar, a Sudanese nurse, sat in the blazing desert sun with 14 other migrants who claimed they had been detained by Tunisian authorities and dumped near the Libyan border; Tunisia denies this practice. She was weeping, exhausted, and pregnant. According to Omar and others, Libyan border patrols found the group of men and women from Sudan, Senegal, Ghana, and Mali over the weekend and provided them with food and water. They roamed for four hours.
After her ordeal in the desert, she said, "It was just a horrible feeling to walk in the middle of nowhere," adding that she worried about her unborn child. Her clothes were covered in sand. As part of a months-long crackdown, migrants, Libyan border guards, and rights organizations accuse Tunisia of driving migrants across the border into a featureless wilderness far from towns or villages in the height of summer. According to Libya, bodies of migrants who perished in the desert have been found.
President Kais Saied has referred to the reports as false information intended to harm the reputation of Tunisia and the Interior Ministry of Tunisia has denied dumping migrants in the desert. When questioned about the migrants' claims by Reuters, Interior Ministry spokesperson Faker Bouzgaya responded, "Tunisia rejects all accusations of expelling African immigrants." When asked how those stranded in the desert got there, he responded, "People who meet the conditions for legal entry into Tunisia will be allowed in," without going into further detail, adding, "Tunisia is not responsible for what happens outside its borders."
Bouzgaya cited the Red Crescent's assistance to migrants at the border in Tunisia.
REMOTE AND ALONE
Omar, 26, claimed that she and Yaseen Adam had been residing in Zarziz, a town in southern Tunisia close to the Libyan border, where they had been saving money to pay smugglers to transport them to Italy. She claimed that last week, police had detained them and taken them to the border. In April, when fighting broke out suddenly there and Omar's father was killed by shellfire in their neighborhood, the couple fled their home in Khartoum. They traveled through Chad and Algeria before arriving in Tunisia, they claimed.
Omar, Adam, and the other migrants found by the Libyan patrol and the Reuters reporters claimed that after the police detained them along with other migrants, they beat the men, stole everyone in their group's phones, and left them in the desert. News agency and Reuters were unable to independently confirm their claims about what happened before they were discovered in the desert. About 300 people, according to the U.N. migration agency IOM and other U.N. organizations, received food and medical care at a Libyan government facility in Alaska, close to where Omar's group was discovered.
Keep Reading
According to Giacomo Terenzi of the IOM in Libya, "the situation at the border is very complicated. It seems that there are about 350 migrants still stranded in Ras Ijder," a coastal region about 35 kilometers (20 miles) from Alaska. IOM and UNHCR expressed grave concern for the safety of hundreds of migrants, refugees, and asylum seekers in Tunisia who had been sent to "remote and desolate" border areas or who had been forced across the border last month.
CRACKDOWN
Expulsions across the desert border were first mentioned in early July following clashes between locals and migrants in the port city of Sfax, a major starting point for unauthorized boat trips to Italy. Following President Saied's announcement of a crackdown on migrants in February, thousands of migrants who had been living in Tunisia have attempted to leave for Europe this year. Saied claimed their presence was part of a scheme to alter Tunisia's demographic composition.
The African Union criticized that campaign for using "racialized language," which led to a spike in reported attacks on migrants from sub-Saharan African nations. This year, there has been an increase in migration from North Africa and the Mediterranean to Europe, and there are still reports of deadly shipwrecks on routes through and from Libya, Tunisia, Algeria, and Morocco. The European Union announced last month that it would give Tunisia more than 100 million euros to help combat people smuggling and enhance border management, despite the criticism leveled at the country's strategy.
Human Rights Watch and Amnesty International have both documented torture in migrant detention facilities under the control of armed factions in Libya, where rights organizations have criticized the EU for supporting migration policies there. The Libyan government has denied that any of the centers engage in torture. Omar and her group claimed that Libyan border guards from Brigade 19 of the Tripoli government's Defence Ministry had given them water and food.
They were resting on the ground when the patrol discovered them, their heads wrapped in scarves to protect them from the sun and strong wind-carrying sand. Their lips were chapped and ashen. They would be transported to the government building in Alassa, according to the border guards. According to Terenzi, the migrants it was assisting there wouldn't be taken to detention facilities. Omar's group also included Kufi Mousa, 23, and his wife Blessing David, 20. They claimed to have arrived in Tunisia three months ago via Algeria. David also claimed she was expecting like Omar. However, they were unable to make enough money to continue their journey to Europe.
"I'm annoyed. I've given up. I simply want to go back to Ghana. They drove my wife and me out and left us to fend for ourselves in the harsh desert," Mousa said.