Iran Puts Another Teenage Girl To Death Over Moral Policing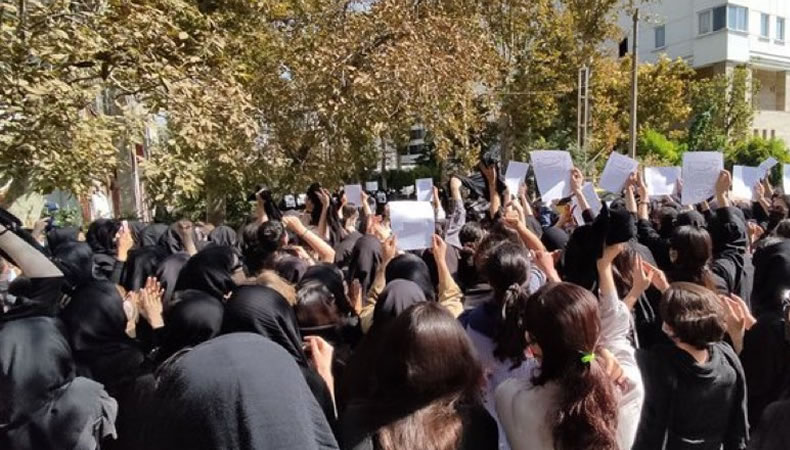 As things become murkier for Iran, human rights violations continue to mount for this Middle Eastern country. In the midst of the country fighting for the rights of slain Mahsa Amini, another young girl has gone missing.
Nika Shakarami went missing from protests that were being staged for the murdered and dead Amini. The young girl went missing on September 20 and was found dead with her skull broken and disintegrated, according to confirmed sources.
Family has suspected violence meted over her by the Iranian police itself. The 16-year-old had last sent a message to her friend stating that she was running for her life from the armed security forces. Since then, she went missing for a period of 10 days with no news of her whereabouts.
She had been protesting against the death in custody of Ms. Amini who went into cardiac arrest after suspected mental and physical torture at the hands of Iranian moral police.
Read | Iran Schoolgirls Remove Hijabs and Shout Slogans Amid Anti-Hijab Protests
The young girl's body was found in a morgue of an Iranian detention center after the family set out a high alert for her and went looking at various police stations and hospitals. The underage youth had been forcibly held by Iran's Islamic Revolutionary Guard Corps and briefly detained in Tehran's notorious Evin Prison.
The family has not been allowed to take the body out of Iran for burial and has now stolen it to prevent any investigations over the gruesome bodily injuries given to the underage teenager. According to some anti-Iran regime groups, a protest that marched on the graveyard where Nika's body was buried by authorities saw people chanting "death to the dictator" before security forces attempted to disperse crowds with teargas and live ammunition.
The United States will impose "further costs" on Iran for its lethal crackdown, President Joe Biden said on Tuesday, drawing accusations of "hypocrisy" from Tehran.
Rights groups voiced deep concern after Iranian riot police used teargas and paintball guns against hundreds of students at Tehran's Sharif University of Technology on Sunday night, with video footage showing detainees being taken away with hoods over their heads.
Protests also spread to schools, with video footage shared by Kurdish rights group Hengaw showing schoolgirls demonstrating in two cities in Amini's native Kurdistan province.