Iran Schoolgirls Remove Hijabs and Shout Slogans Amid Anti-Hijab Protests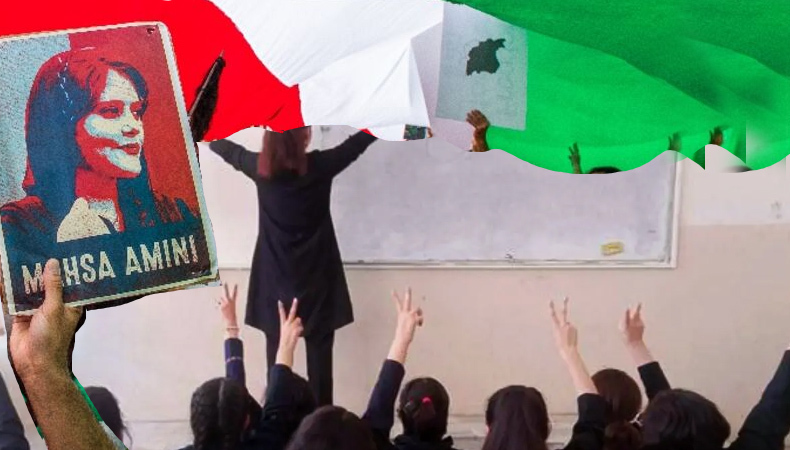 Iranian schoolgirls have joined nationwide protests over the death of 22-year-old woman, Mahsa Amini, removing their hijabs and staging rallies in defiance of a crackdown by the security forces.
Protests by schoolgirls have been reported in Karaj, Tehran, the capital of Iran, and the north-western cities of Saqez and Sanandaj. Schoolgirls have started removing their hijabs, shouting anti-regime slogans and defacing images of the clerical state's leaders.
A Group of schoolgirls sang "Woman, Life, Freedom" as they marched through the Karaj neighbourhood of Gohardasht. Another group of bare-headed girls chanted "Death to the dictator" as they forced a man, reportedly the principal, out of a school in Karaj. They demanded freedom from hijab and forced the principal out of their school. They yelled "Shame on you, shame on you" and threw empty bottles at him. The video of the incident, verified by AFP, was posted on Twitter showing the girls chasing the official at the school gate.
Another group of girls were yelling "Get lost, Basiji" in reference to the paramilitary force of Iran. Another group of schoolgirls halted traffic on a prominent route in the southern city of Shiraz by waving their Hijabs in the air.

Read  | Iran protests: Supreme leader blames the unrest on the US and Israel
The videos posted on social media showed thousands of angry women and school girls taking to the streets of Iran, chanting Zan, Zendegi, Azadi (Woman, Life, Freedom) against the mandatory Hijab laws imposed by the Islamic regime.
Amini was reportedly pronounced dead on September 16 after she was detained by morality police for allegedly breaching Iranian rules requiring women to wear Hijabs. Her death sparked Iran's biggest wave of popular protest in almost three years. According to the group Iran Human Rights, at least 92 protesters have been killed in the unrest. More than 1,000 protesters have also been arrested by the security forces.