Saudi Arabia wins bid to host 2029 Asian Winter Games at NEOM Megacity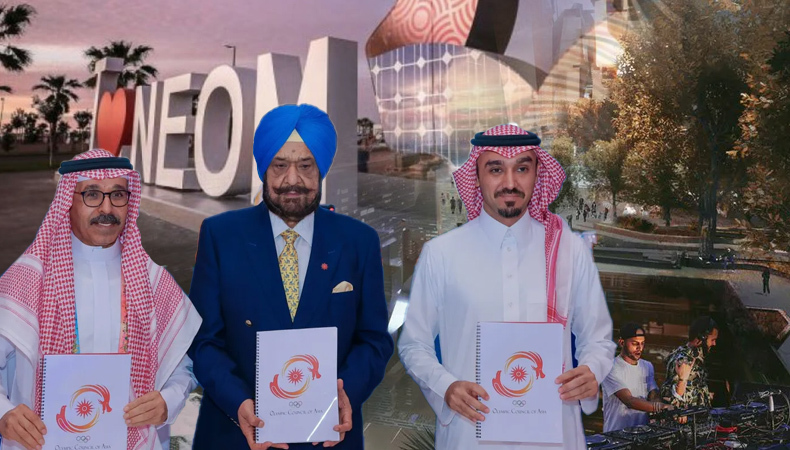 The Kingdom of Saudi Arabia (KSA) has won a bid to host the 2029 Asian Winter Games at a planned mountain resort in the Gulf Arab state's $500bn flagship NEOM project, one of the largest and most complex construction projects in the world.
The NEOM is a city being built in Tabuk Province in Saudi Arabia. The project is expected to be completed in 2026 and will offer a man-made freshwater lake and a nature reserve, according to the project's website.
The Olympic Council of Asia (OCA) said in a statement, "The deserts and mountains of Saudi Arabia will soon be a playground for winter sports." The announcement was made in the presence of NEOM CEO Nadhmi al-Nasr.
NEOM is Crown Prince Mohammed bin Salman's most important project under the Saudi Vision 2030 development plan. The project aims to reduce reliance on oil and transform the economy. The Crown Prince is also expecting that the IPO of NEOM will happen in 2024.
Read | Saudi Arabia begins teaching yoga in its universities
The sports minister of Saudi Arabia, Prince Abdulaziz bin Turki al-Faisal, said on Twitter, "With the unlimited support by the Saudi leadership & Crown Prince to the sports sector, we are proud to announce we have won the bid to host AWG TROJENA 2029 as the first country in western Asia." The Kingdom is set to host the 2029 Asian Winter Games (AWG) in NOEM's TROJENA.
TROJENA, part of the megacity NEOM, is located 50 kilometres from the Gulf of Aqaba coast. The NEOM project will include a zero-carbon city "The Line" along with industrial and logistics areas. The project also looks to redefine mountain tourism and capitalise on the different climates.
According to the prince, the country will raise 500 billion riyals of capital in 2027 under the project NEOM. It also aims to contribute to global success and achieve Saudi Vision 2030.