Israel Govt Rakes Gigi Hadid for Supporting Palestine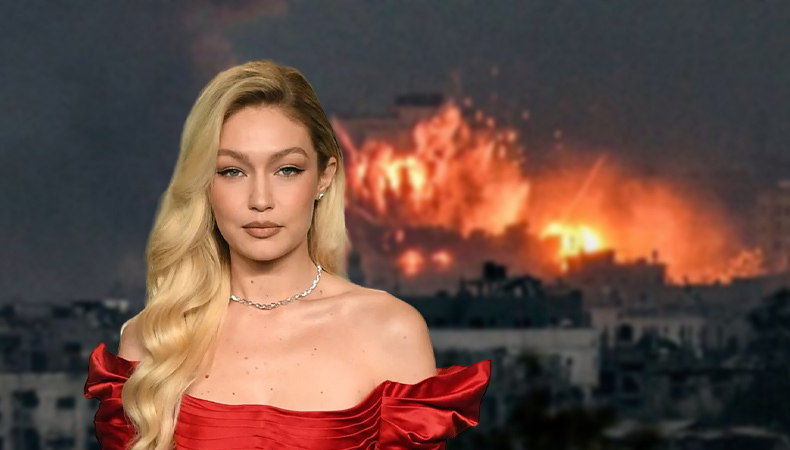 Israel is not open to criticism, especially from Hollywood celebrities. In the past, the Israeli government had locked horns with award winning actress Natalie Portman, this time its supermodel Gigi Hadid, who is half-Palestinian.
Not taking her Instagram post lightly, the Israeli government asked whether she has been sleeping this past week or has turned a blind eye to Jewish babies being butchered. It tore into her silence. "If you don't condemn this, your words mean nothing."
Hadid had posted "There is nothing Jewish about the Israeli government's treatment of Palestinians. Condemning the Israeli government is not anti-Semitic and supporting Palestinians is not supporting Hamas."
Gigi Hadid Stands up for Palestine
The 28-year-old said terrorizing of innocent people is not in alignment with and does not do any good for the "Free Palestine" movement. She shares a deep empathy and heartbreak for the Palestinian struggle and life under occupation since her father Mohamed Hadid is a Palestinian immigrant.
However, Hadid's pro-Palestine stand hasn't gone down well with Israeli government. In a post to rebuke the supermodel, the State of Israel included an image of a bloodied floor with children's toys. Hadid believes there are a lot of complex, personal and valid feelings, but every human deserves basic rights, treatment and security irrespective of their nationality, religion, ethnicity, or where they were born.
"I know my words will never be enough to heal the deep wounds of so many, but I pray for the safety of innocent lives, always."
Keep Reading
Netflix Lost Lior Weitzman in Hamas Attack
Conor McGregor Applauds Saudi Arabia UFC Fight Night March 2024
Kim Kardashian Palestinians and Israelis Caught in Crossfire
Reality TV star Kim Kardashian has come out in support of civilians, irrespective of whether they are Israelis or Palestinians. She said brutal terrorism has taken innocent lives and now both Israeli and Palestinian civilians are suffering.
"No matter who's side you are on, or how you have been triggered by the horrors of these past few days, our hearts should always have compassion towards innocent victims caught in the cross hairs of warring over power, politics, religion, race and ethnicity."
Lynda Carter, an American actress, also took to social media to share her thoughts. "Millions of Israelis and Palestinians have worked so hard to end the cycle of violence, only to see it escalate. Nothing we say, as we sit safely in our homes and far away from the conflict, can really capture how much capture how much of a tragedy this is."