Italy Mourns Silvio Berlusconi: The Legacy, Succession, and Uncertainty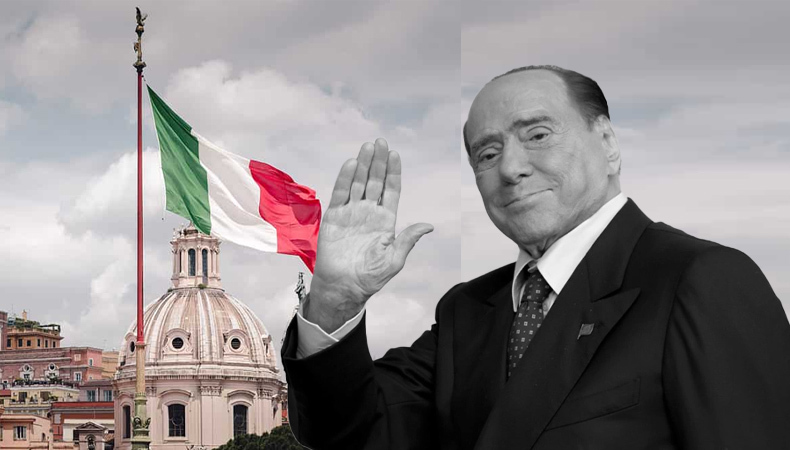 Today is a day of national grief in Italy as it bids Silvio Berlusconi, its former prime minister, farewell. Berlusconi, who was well-known for his remarkable life journey from a former cruise singer to a media magnate and political figure, has left behind a spectacle matching the enormous soap drama of his life. As the nation mourns his departure, concerns are raised about his massive empire's future, the future of his political party, and possible effects on the present administration.
Also Read – PMs of Italy and Iraq discuss relations and collaboration
A State Funeral for a Controversial Figure
In the magnificent cathedral of the city, Berlusconi's state funeral will be presided over by the Archbishop of Milan. This outstanding memorial, unheard of for a former prime minister, honors Berlusconi's profound influence on Italy's political and cultural scene. All Italian and European flags flying on government structures have been flown at half-staff in remembrance of this momentous milestone.
A City Tied to Berlusconi's Life
Milan has a significant role in Silvio Berlusconi's life story. It is the city of his birth and the starting point of his successful career, where he first sold vacuum cleaners. Thousands of people are anticipated to congregate in the main square to say their final goodbyes to the influential person, where maximum-screens have been erected.
Berlusconi's Vast Empire and Political Legacy
Throughout his life, Berlusconi amassed a sprawling empire that spanned multiple sectors, including media, real estate, finance, cinema, and sport. In addition to his business ventures, he established Forza Italia, a powerful political party that remains part of Italy's current government. As one of Italy's wealthiest individuals, with business assets valued at approximately €6 billion, the future of his empire hangs in the balance.
Succession and Family Dynamics
Despite his notoriety, Berlusconi never publicly named the person he wanted to oversee his commercial empire, therefore its future remains uncertain. Also in doubt is the future of the Forza Italia party, which primarily relied on Berlusconi's charisma. The allocation of his 61% ownership in Fininvest, his holding company, will probably determine the future of his commercial interests because he has three children from his second marriage and two from his first marriage, all of whom have holdings in Fininvest.
Potential Challenges and Unity
The question of whether equal shares will be distributed among the children, or if the two eldest, Marina and Pier Silvio, who have held management roles within the empire since the early 1990s, will receive more significant stakes, remains unanswered. Another challenge arises concerning the distribution of Berlusconi's valuable assets, including his luxurious villas. The need to ensure family unity while dealing with significant inheritances could present complexities in maintaining his empire.
The Impact on Forza Italia and Italian Politics
Silvio Berlusconi's passing could have a significant impact on the direction of the Forza Italia party. The viability of the party without its charismatic founder is doubtful because of the extent to which its foundation is based on Berlusconi's character and leadership. Antonio Tajani, the foreign minister and Berlusconi's right-hand man, downplays the likelihood of the party's demise but admits it will be difficult to replace him and win over his fans.
Role of Berlusconi's Family and Potential Successors
The likelihood of family unity and continuation is still in doubt, despite the fact that Marina, Berlusconi's oldest child, is seen to be the one who is closest to her father and may eventually take over his empire. The future direction of Forza Italia is also unknown due to the involvement of Berlusconi's partner, Marta Fascina.
Political Instability and Government Fallout
It would be extremely difficult for the other coalition partners in Prime Minister Giorgia Meloni's administration if Forza Italia were to disintegrate. It is possible that one of the coalition partners would fall apart, which would result in the probable collapse of the government, adding to Italy's history of repeated crises and political instability.
Also Read – Italy Firms Up Environmental Protection Law Into Its Constitution
The loss of Silvio Berlusconi has come at a crucial time for Italy, which is currently in mourning. The future of this legendary figure, his enormous empire, and his political party are all in jeopardy. There is a sense of apprehension and uncertainty due to the hazy succession plan, the potential impact on Italian politics, and the potential consequences for the current administration. The issue that Italy now faces is advancing without its charismatic and contentious former prime minister.