Jordan MP accused of trying to smuggle guns into the West Bank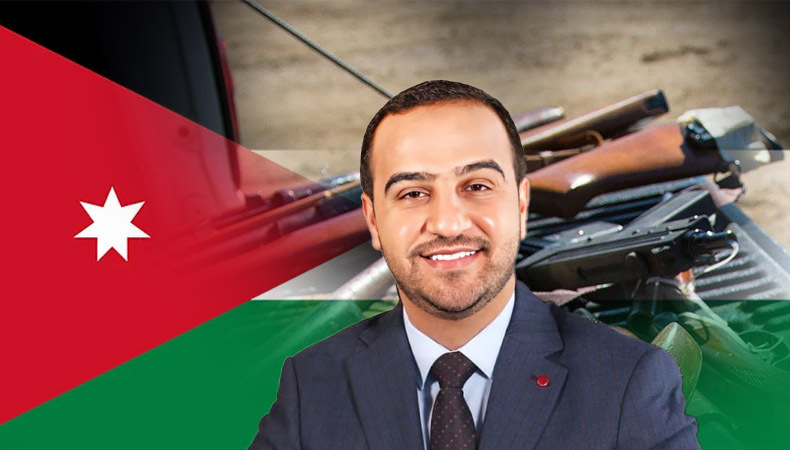 An attempt to smuggle firearms into the Israeli-occupied West Bank was the subject of charges against a Jordanian member of parliament in the country on Tuesday, according to his attorney.
Also Read –King Abdullah  of Jordan is received by the Saudi crown prince
Imad Al-Adwan, 35, may receive a 15-year jail term if found guilty.
He was seized on April 22 at the Allenby (King Hussein) crossing between Jordan and the West Bank, which is controlled by Israel. At the time, Israel's Shin Bet internal security service said that Israeli security officials had discovered 12 rifles and 194 handguns in his car.
Later, Israel handed him up to Jordanian authorities.
"Imad Al-Adwan appeared today before the state security court and was questioned by the prosecutor following the confiscation of firearms and gold in his possession by the Israeli authorities," his attorney, Ali Al-Mubaeedin, told AFP.
The lawyer said, "The MP is accused of exporting weapons with the intent to use them illegally and of engaging in conduct that is likely to disturb public order and jeopardize national security."
After Egypt, Jordan was the second Arab nation to acknowledge and ratify a peace deal with Israel in 1994.
According to an earlier report from Jordan's official Petra news agency, "other defendants admitted to trading and smuggling weapons, gold, and e-cigarettes in association" with Adwan.
According to Ahmad Safadi, speaker of the lower house of the Jordanian parliament, when Adwan was freed by Israel, the legislature moved to remove his immunity from prosecution in response to a court order.
Adwan is a lawyer who serves on the Palestine committee of the Jordanian parliament.
Adwan allegedly used his diplomatic passport 12 times since February 2022 to smuggle various items, including "birds, pigeons, electronic cigarettes, and gold," according to a Shin Bet statement.
Also Read – Jordan ranks fourth in Arab world and 23rd globally for male obesity
He started smuggling firearms across the border at the start of this year "out of greed, and received large sums of money," it continued.
The West Bank has been under Israeli control since the Six-Day War in 1967. This year, the violence in the region has gotten worse as a result of the Israeli-Palestinian conflict.