Kinda al-Khatib awaiting final sentence, 35 citizens falsely accused of terrorism in Lebanon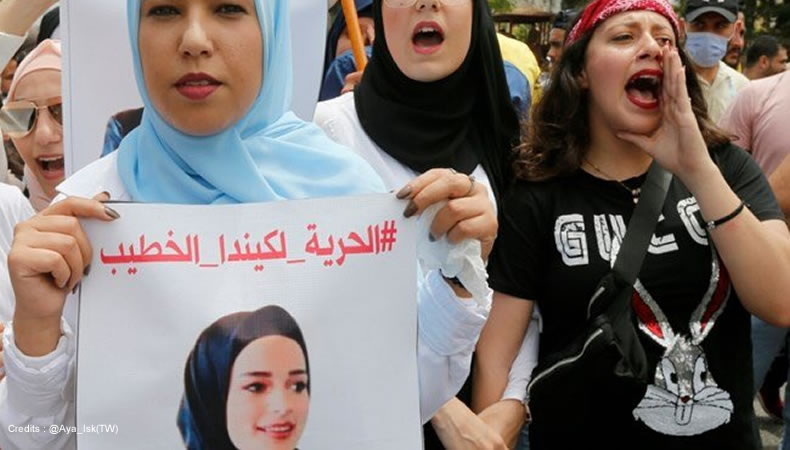 The young Lebanese activist Kinda al-Khatib, arrested on 20 June and sentenced in December by the Beirut Military Court to three years in prison, was released in recent days because of the appeal presented by the defense on which the court-martial will rule.
On April 8, Khatib, 24, an openly critical activist of Hezbollah – the Shiite "Party of God" that effectively rules the country on the verge of economic and political default – had been condemned for "collaboration with the enemy", Israel. Her entourage has always argued that it was a hoax to silence her.
During the months of her detention, Joseph Braude, president of the Center for Peace Communications, a non-profit that brings together activists from the Middle East and North Africa, pleaded her cause. Given the hearing that will soon decide the fate of the young activist, Braude explains that the woman was arrested by 16 masked men in the middle of the night, interrogated for days, and detained in prison for nine months before her temporary release on bail.
During her interrogation, she was not informed of the allegations against her for several days. During the months of detention, she was undernourished, she suffered from food poisoning and contracted Covid-19 without receiving adequate treatment. According to Kinda, the only reason she did not suffer physical assaults while in prison was that her case had attracted media attention and the military was afraid of possible repercussions.
Supporters of Hezbollah and President Michel Aoun have considered Kinda a thorn in their side for years: she is the voice of a talented young woman with thousands of followers on social media, who has never stopped publicly denouncing their disinformation campaigns. Hezbollah has more control over military courts than civilian ones, which is why it was important for them to take it to court-martial.
In Lebanon, civilians can only be tried in a military court on charges related to terrorism or "collaboration with Israel". As they had been monitoring her cell phone for some time, they discovered that she had exchanged messages with an Israeli journalist and this was the pretext they needed to use the anti-normalization law to arrest her. Then they used pro-Hezbollah media outlets to spread false and absurd claims, without any evidence, that she had visited Israel and coordinated with Western and Gulf intelligence services.
Among the Syrian refugees, the pandemic, the squeeze of US sanctions against Hezbollah, rampant nepotism and corruption, the Lebanese economy and political system are in collapse. In recent weeks, in the face of political stalemate and the continuous increase in inflation, a new wave of protests is mounting that calls for change in the country, while the repression does not subside.
Lebanese human rights organizations have documented a sharp increase in attacks on journalists by state bodies: from 20 in 2019 to 60 in 2020. On February 4, the assassination of journalist and anti-Hezbollah activist Lockman Slim shocked the country.Besides Kinda, 35 Lebanese citizens were recently tried on false terrorism charges, when their only crime was taking part in anti-government demonstation.