Lebanon: The opposition confronts both internal and foreign challenges to election victory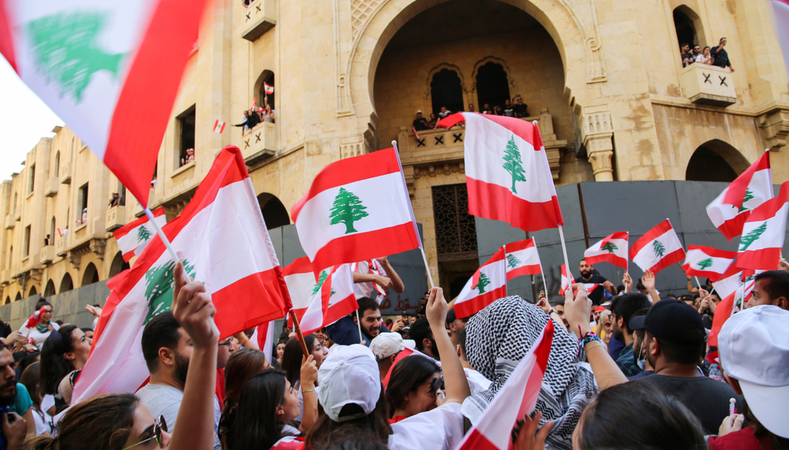 Lebanon–This is a frequent scene in Lebanon in the weeks leading up to elections. On a crowded Beirut street, campaigners with a megaphone and pamphlets are spreading the news about their candidates' political platform. A man on a scooter approaches to talk politics.
A gang of guys, however, drives the young activists away as they begin to put up a tent a few minutes later. "They're attempting to steal our streets," one yells loudly. Soldiers stationed nearby keep an eye on everything but do not intervene. This is Tarik Jdideh, a poor Beirut neighborhood noted for its devotion to Saad Hariri, Lebanon's de facto Sunni leader. His decision to leave politics in January has alarmed his followers ahead of the May 15 legislative election. "Let us go with dignity and be faithful to Saad Hariri for the next four years," another of the guys adds, declining to provide his name.
Members of left-wing secular groups are being pushed away from a grassroots movement named Beirut Tuqawem, which means "Beirut Resists" in English. They are unsurprised by the aggressive behavior. They've met opposition in other parts of the city, particularly from individuals who back other sectarian leaders. "Clientelist networks are spread around the city by sectarian heads. These individuals symbolize how these clientelistic networks are run "Hussein Kotob, a 33-year-old electrical engineer, agrees.
Related Posts
"We'll attempt a new tactic next time." We'll merely hand out fliers in alleyways instead of setting up a tent. I am convinced that if we stroll down the street and chat in stores, the majority of people will be interested in hearing what we have to say." The economic crisis in Lebanon has provided political reformists with a once-in-a-generation opportunity to gain ground against entrenched sectarian leaders, especially former warlords from the 1975-1990 civil war, whom the public primarily blames for the country's downfall.
Opposition parties are nominating a huge number of candidates for the upcoming elections, buoyed by an unprecedented months-long public revolt that began on October 17, 2019. In theory, public opinion is heavily in their favor. In February, the Konrad Adenauer Foundation commissioned a poll that revealed that of the 50% of Lebanese who contemplated voting, a quarter would vote for an independent. Hezbollah, Lebanon's strong Shiite party and militia, came in second among prospective voters, followed by groups formed as a result of the October 17 protests.
"This is the first time I've been open to discussing a new initiative," says Jihad Al Faraan, 33, a post office employee who stopped his scooter to debate views with Mr Kotob before the campaigners were forced out of Tarik Jdideh. "Politicians in our country have perpetrated a massive fraud." Mr. Al Faraan was alluding to the economic crisis, which is commonly blamed on the country's elite's corruption and incompetence.
Verena El Amil, a 25-year-old candidate in Beirut's Metn district, says she can sense the support for her campaign. "It's crucial for the kids to run because they haven't yet been co-opted by the system," she says as she campaigns in the Badaro neighborhood, a middle-class neighborhood. The majority of those present are young and educated. "If I had voted in Metn, I would have voted for her," Lama, a young woman from south Lebanon, says after speaking with Ms El Amil.
"The last time I voted, I didn't cast a ballot." "I was not represented by anyone."
Ms. El Amil used up all of her funds, roughly $1,000, to register for the election, and she has no other means of support. She claims that elder politicians have attempted to deter her. "They asked if I wanted to join their mailing lists or if I wanted to inform them, 'What are you doing here?'" You're twenty-five years old. We've been at this location for 30 years.' But I have a vision, and I want to fight for a better nation with all my heart." Adham Al Hassanieh, 34, a member of Li Haqqi, a four-year-old left-wing group, says his hopes are "manageable and reasonable."Mr Al Hassanieh thinks the system isn't crumbling, but it is swaying.
After decades of non-democratic activities by the main parties, such as buying votes and intimidation, he feels it will be difficult for Lebanese to become more active in politics. "I believe that if nothing changes, we have failed, rather than that there is no hope." Lebanon's political opposition must contend with internal splits in addition to entrenched sectarian feeling and a widespread distrust of politics.
In Beirut, there are multiple rival opposition lists, severely reducing their prospects of winning. "We would have loved to have had one list for all opposition parties in all districts," says Tarek Ammar, a consultant who is running for the first time in Beirut's parliamentary election. He is one of five members of Madinati's citizen council, or political bureau, which began as an election list for Beirut's municipality in 2016. "People desire change," Mr Ammar adds, "yet the majority of us who walked to the streets in October 2019 had never worked together before."
"The stakes are huge, yet removing the regime will take time. The election is only a small part of the picture." The disintegration of Lebanon's opposition, according to economist Kamal Hamdan, is primarily owing to the country's sectarian power-sharing structure. And, as a result of political parties' successful attempts to undermine labor groups in the 1990s, there are no significant trade unions that might assist unify opposition groupings.
Mr Hamdan adds, "There are also personal ego clashes, which is normal." Some parties have decided to boycott the polls due to internal differences. Li Haqqi, a major member of Beirut Tuqawem, has pulled out and withdrew the group's five candidates competing in different regions of the nation since the flyer distribution in Tarek Jdideh last month.
The party accused other, unidentified opposition parties of utilizing the same techniques as "the government" in a statement released on April 4, the deadline for electoral lists to be registered with the Interior Ministry. According to sources, there were conflicts about who was picked to exchange lists with. Mr. Al Hassanieh, Li Haqqi's Beirut candidate, refused to comment on the split to the media.