Mayon Volcano in the Philippines Shows Signs of Impending Eruption: Evacuations Underway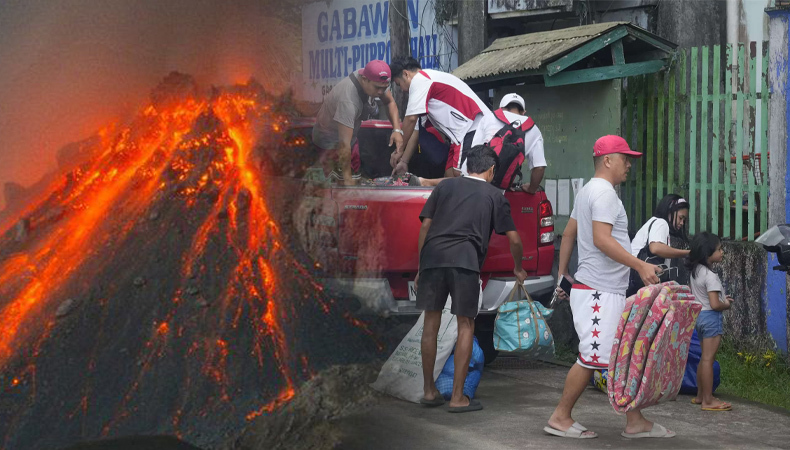 Nearly 13000 residents were evacuated from the southeast of the Philippines' main island as the country's most active volcano began spewing sulfuric gas and lava yesterday. The Philippine Institute of Volcanology and Seismology, better known as Phivolcs, has recommended evacuating everyone in a 3.7-mile radius or "danger zone" of Mount Mayon volcano. Phivolcs recommends such evacuation due to the possible danger from ballistic fragments, landslides, and rockfalls.
Also Read – Philippines supports safeguards for Kuwaiti laborers
Since last week, as the alert level of the volcano shot up to 3 out of a possible 5, almost 88% of residents residing in the danger zone have already been evacuated, and active efforts are being undertaken to evacuate the rest of the residents as per the Philippine Provincial Information Office.
On the island of Luzon, about 205 miles southeast of Manila, is Mayon, a very active volcano. Photos show people in the province of Albay carrying their children and possessions, boarding trucks and military vehicles, and seeking refuge at evacuation centres inside nearby schools.
Phivolcs warned that a potentially hazardous eruption could occur in the upcoming days or weeks. They saw that the volcano was experiencing a fair amount of activity and disturbance. The Mayon Volcano Network recorded 260 rockfalls, 21 minor volcanic earthquakes, and lava streaming from the volcano's crater the previous day. Three pyroclastic density currents, swiftly moving streams of ash, hot gases, and debris that rush down the volcano's slopes, were also seen by Phivolcs. They warned that ashfall might occur on the volcano's southern flank.
The government authorized the distribution of funds to assist the impacted citizens after announcing a state of calamity in the province of Albay. If there is a spike in volcanic earthquakes and expansion of the volcano's structure, Phivolcs may raise the alert level to 4 and keep a careful eye on the situation. On Sunday evening, they reported an eruption, with slow-moving lava flows extending 500 metres (1,640 feet) from the volcano's top.
Unlike explosive eruptions, effusive eruptions, like the one currently occurring, are often less violent and produce less ash and hazardous gases. Nighttime photographs show blazing streams of molten lava erupting from the volcano's summit and gushing down its sides.
Also Read – Kuwaiti Voters Go to the Polls Amid Political Gridlock and Waning Optimism
Mount Mayon's most recent significant eruption took place in 2018, displacing thousands of residents and blanketing adjacent communities in thick layers of ash.