On 5th Night of Unrest in France, Hundreds More Arrested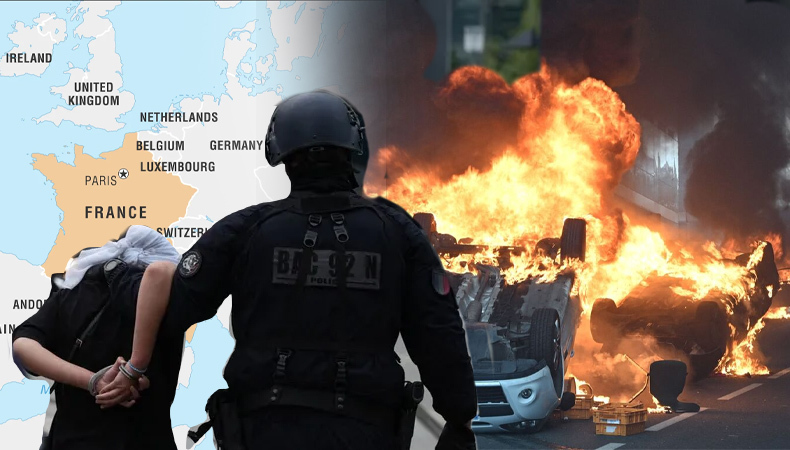 As police reinforced flashpoint cities across the nation, the French government announced on Sunday that hundreds more people had been detained in a fifth night of rioting sparked by the police killing of a 17-year-old.
Also Read – Frenchman is still imprisoned in Iran despite being exonerated: Lawyer
Since an officer shot Nahel M. point blank as he tried to elude a traffic stop on Tuesday, protesters, mostly young people, have set cars on fire, damaged property, and fought with police in a rage.
The murder was caught on camera, and as it circulated on social media and fueled outrage over police brutality against minorities, it revealed the extreme racial tensions in France.
The interior ministry reported that police had made 719 arrests overnight, still a provisional tally after approximately 1,300 the night before, the day after Nahel was laid to rest in his hometown near Paris.
According to the report, 871 fires were started in streets and other public areas, 577 vehicles were burned, 74 buildings were set on fire, and 45 police officers or gendarmes were hurt.
Police still documented several incidents even though national statistics suggested a general decline in tension across the nation.
"Horror and shame"
The mayor of a town south of Paris claimed that rioters set fire to his house and rammed a car into it, injuring his wife and one of his children.
The mayor, Vincent Jeanbrun, declared that "last night the horror and disgrace reached a new level," and prosecutors said they were looking into the incident for possible attempted murder.
The exact number of police officers (45,000) as the previous night were on the streets of France and backup officers were sent to hotspots like Lyon, Grenoble, and Marseille.
Following calls on social media to bring rioting to the center of the city, 7,000 of the total were concentrated in Paris and its suburbs, including along tourist hotspot the Champs-Élysées Avenue in central Paris.
According to Interior Minister Gerald Darmanin, the heavy police presence had assisted in containing the violence.
Early on Sunday, he tweeted, "A calmer night thanks to the resolute action of the security forces."
Police dispersed groups of youths on Saturday night at Canebière, the main avenue cutting through the center of Marseille, which has experienced violent clashes and looting, according to journalists.
Many towns have established overnight curfews.
For President Emmanuel Macron, who had hoped to continue with his second term after quelling months of unrest that broke out in January over raising the pension age, the protests pose a fresh crisis.
He postponed a state visit to Germany that was set to start on Sunday as a sign of the seriousness of the situation.
In his hometown of Nanterre, where he resided, hundreds peacefully gathered for "Reflection" Nahel's funeral service on Saturday. He was accompanied by his mother and grandmother.
According to a witness who spoke to AFP, the event was marked by "reflection" and went off "without incidents."
To reduce the ongoing violence, France has banned the sale of large fireworks and flammable liquids and has stopped operating buses and trams after 9:00 p.m.
At 6:00 p.m., all urban transport in Marseille was suspended.
One-third of the rioters were "young or very young," according to Macron, who urged parents to take responsibility for their children.
Darmanin reported that the average age of those detained was only 17, while Justice Minister Eric Dupond-Moretti stated on Saturday that 30% of those detained were minors.
With France hosting the Rugby World Cup in the autumn and the Paris Olympic Games in the summer of 2024, the unrest has sparked concerns abroad.
Britain and other European nations updated their travel advice to caution visitors to avoid the riot-affected areas.
In a similar way, the Chinese consulate in Marseille told its people to "be careful and watchful" after state-run media said that a bus full of Chinese tourists had been stoned in a city in the south.
With singer Mylène Farmer canceling stadium shows and French fashion house Celine postponing its Paris menswear show, culture and entertainment have been disrupted.
In connection with Nahel's death, a 38-year-old police officer has been charged with voluntary homicide and remanded in custody.
The killing of the teenager with North African ancestry was described by the UN rights office as "a moment for the country to seriously address the deep issues of racism and racial discrimination in law enforcement" on Friday.
Also Read – Iranian-French academic Adelkhah released from Iran's prison
Any claims of institutionalized discrimination in the police force were deemed "totally unfounded" by the French.