Pope Francis on a visit to Iraq, the first pontiff in the Abraham land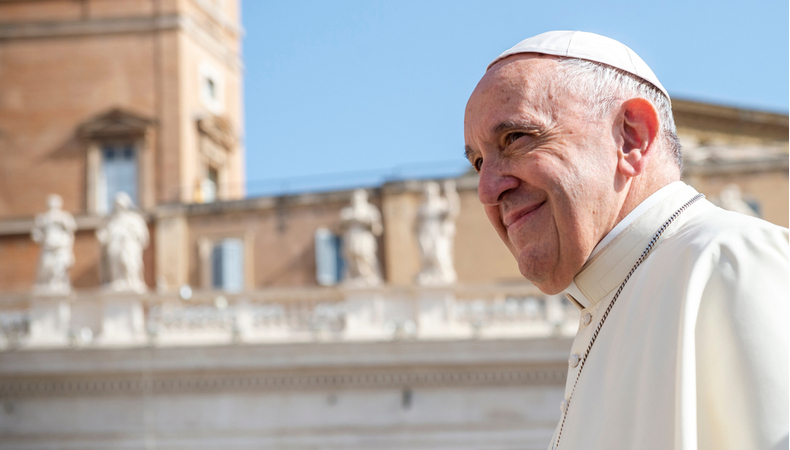 Never had a Pope gone to the land of Abraham, no pontifex of our times faced such an adventurous journey. The visit will touch the whole country, from the Arab-Sunni and Kurdish north to the Arab-Shia south, and each of the stages is a challenge to military security, along with the health security challenge.
Pope Francis will go to the destroyed and desecrated churches of Mosul, a martyr city of the civil war in Iraq and a symbol of the persecution of Christians during the terror imposed by the Islamic State. His arrival is expected for next Sunday, March 7, in the Churches Square, where the four churches of the ancient Christian-Chaldean community are located, violated by ISIS terrorists.Under Daesh terrorists, Christian churches were converted into courts and prisons or, at best, used as administrative offices, in the period from 2014 to 2017.
The sacred buildings, testimony of Mosul's thriving Chaldean-Christian community, have been desecrated not only by Islamist terror but also by fighting and bombs. The scars left by the war are the side effects of those air raids conducted to expel extremist groups from the occupied city, but which also hit the facades of Christian churches, marking them with bullets and shrapnel.Iraq has maintained a thriving Chaldean Christian community that coexisted with the Islamic one during Saddam Hussein's Baathist rule. The persecutions began with the 2003 war and Mosul itself suffered heavy losses in human life within the community.
In recent days, Cardinal Louis Raphael Sako, patriarch of Babylon of the Chaldeans, originally from Mosul, recalled the serious losses suffered by the community during the war: 1,025 Christians were assassinated, including the bishop of Mosul. The haemorrhage of the Chaldean community was also caused by emigration, to Christians who fled the country seeking refuge from war and terror. Even before the arrival of ISIS, 58 Chaldean-Christian churches were attacked, Sako, points out.
Today only one of the churches in Mosul is functioning and offers a Sunday service for the few dozen Christian families left from the old community of about 50,000 members.There are currently about 300,000 Christians in Iraq, a fifth of the total before 2003.The Pope will pray for the victims of the war in Hosh al-Bieaa, known as Church Square in English, according to what is learned from the Reuters news agency.The four-day trip starting March 5 has been described by Mosul Archbishop Akra Najeeb Michael as highly symbolic and a message of hope, also, to increase respect for Christians in the Country.