Sweden and Finland pledge to fight 'terror' at NATO talks, says Turkey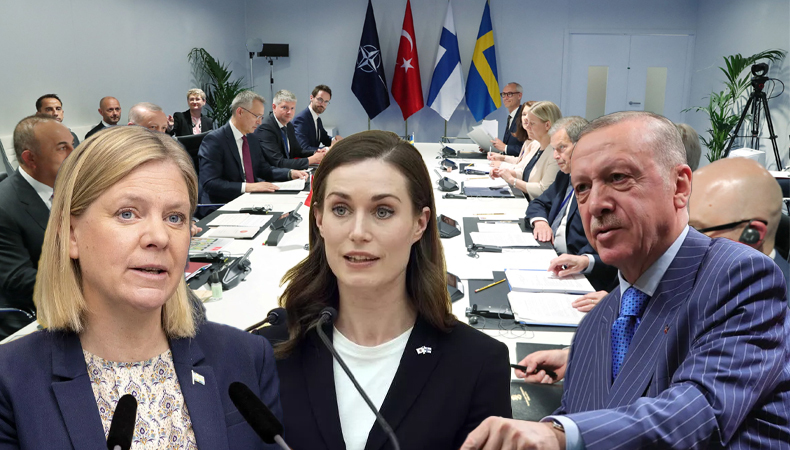 Turkey–Turkey said on Friday Sweden and Finland pledged to fight "terror" at the first meeting aimed at addressing Turkey's conditions for accepting their NATO (North Atlantic Treaty Organisation) membership bids.
The talks started in Helsinki, the capital of Finland. Representatives from Turkey, Sweden and Finland attended the meeting. They agreed to continue talks on the Nordic countries' ascension to NATO.
Reportedly, Erdogan's foreign policy adviser Ibrahim Kalin said, "The two Nordic countries have renewed their commitment to demonstrate full solidarity and cooperation with Turkey in the fight against terrorism."
In June, the three countries signed a trilateral memorandum in Madrid on June 28, paving the way for the Nordic countries' drive to join NATO. However, the President of Turkey, Recep Tayyip Erdogan, threatened to freeze their membership applications unless the two countries handed over dozens of people Turkey views as "terrorists."
Related Posts
Sweden announced the first extradition of a Turkish citizen in August as part of a deal the three countries signed in Madrid. However, Turkey's justice minister said that the extradition fell far short of Sweden's commitments.
The two countries asked NATO to join the alliance after Russia's invasion of Ukraine. They are awaiting the ratification of their NATO applications. Their bids have already been ratified by 23 countries, including the United States. Their applications have not been ratified by Spain, Portugal, Slovakia, Turkey, Greece, the Czech Republic and Hungary.
These two countries submitted their written applications to join NATO in May. In June, Turkey said it will never allow terror-supporting countries to join NATO. Turkey refused to approve their application claiming that Sweden and Finland have links with terrorist groups, including the Kurdistan Workers' Party (PKK). Turkey demanded the extradition of militants from PKK and people implicated in a failed 2016 Turkish coup. The PKK has been listed as a terror organisation by several of Turkey's allies.