US President threatens sanctions against Sudan as the most recent truce fails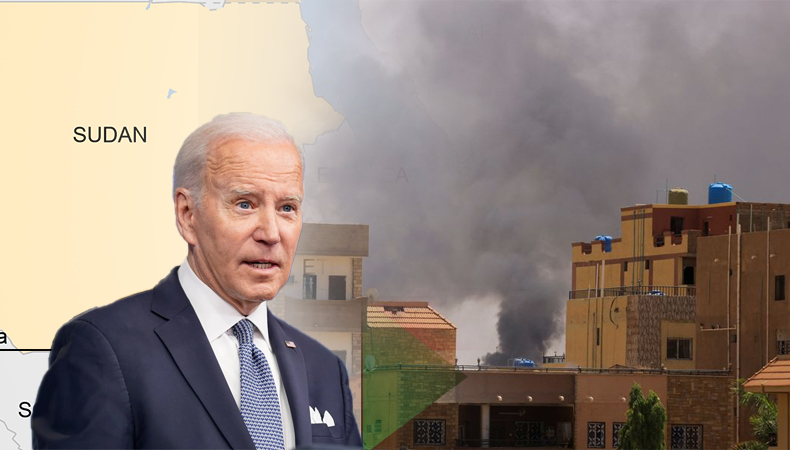 In response to the war in Sudan, US President Joe Biden on Thursday vowed to impose further sanctions, declaring that the fighting "must end," as gunfire and explosions shook Khartoum for the 20th consecutive day.
Also Read – US appreciates Saudi for facilitating safe emigration of American citizens from Sudan
Since fighting broke out between army chief Abdel Fattah Al-Burhan's forces and his former deputy Mohamed Hamdan Daglo's Rapid Support Forces on April 15, hundreds of people have perished in Sudan due to a disagreement over the RSF's intended integration into the regular army.
The army said that it was prepared to abide by a fresh seven-day cease-fire when the most recent cease-fire came to an end at midnight, but the RSF, its adversaries, remained silent.
Although it does not specifically name potential targets, Biden signed an executive order on Thursday that expands the ability to impose sanctions on those responsible for the violence.
In a statement, the US president identified those targeted for sanctions as "individuals responsible for threatening the peace, security, and stability of Sudan; undermining Sudan's democratic transition; using violence against civilians; or committing serious human rights abuses."
"The bloodshed occurring in Sudan is a tragedy and a betrayal of the Sudanese people's unmistakable desire for civilian rule and a democratic transition. It has to end," he insisted.
Within hours of the most recent alleged cease-fire going into force, witnesses in Khartoum described loud explosions, gunfire exchanges, and fighting throughout the day in the five million-person city.
After a string of similar instances, the foreign ministry later claimed that the RSF had attacked the Indian embassy in Khartoum. The diplomatic mission did not immediately corroborate this claim.
According to the Armed Conflict Location and Event Data Project, the conflict has already claimed roughly 700 lives throughout Sudan, with Khartoum and Darfur accounting for the majority of those deaths.
860,000 people are expected to leave the country of north Africa, according to the UN refugee agency, which added that $445 million will be needed to sustain them only until October.
Since the fighting began, more than 100,000 people have already left Sudan.
Burhan and Daglo were scheduled to meet with foreign mediators on the day the violence started to talk about the RSF's enlistment in the army, which was a crucial requirement for the transition to democratic governance.
Also Read – Sudan conflict: UN chief sending envoy to the nation over 'unprecedented' situation
Instead, gunfire could be heard ringing through the streets as Khartoum woke up.
Following the looting of six trucks carrying food supplies from the World Food Programme on their way to the war-torn western region of Darfur, the UN's top humanitarian official, Martin Griffiths, traveled to Sudan on Wednesday to attempt to negotiate safe passage for aid and aid workers.