Activists protest against nationwide lockdown in Lebanon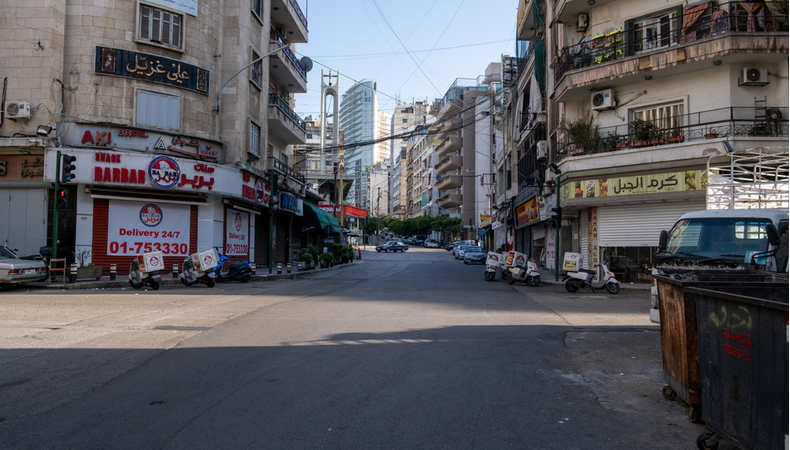 The Lebanese government is struggling to combat the spread of the COVID-19 pandemic amid the deteriorating economic situation in the country. In a bid to contain the surging number of Coronavirus cases, the government imposed a second nationwide lockdown with forced closure of shops and restaurants and imposition of a curfew from 5 pm to 5 am.
Caretaker Prime Minister Hassan Diab stated that the lockdown will last until November end, asserting that there is no alternative as the spread of the virus has reached a critical point. He added that the decision was taken in view of the prevailing risk on the overworked and fragile health system. However, activists from civil movement groups on Wednesday staged a protest outside the Ministry of Interior in Beirut against the severe economic crisis in the country.
With the Lebanese flags in their hands, the activists chanted various slogans such as "the revolution will go on". As the number of protesters grew, authorities deployed a large number of Internal Security Forces (ISF) personnel in the ministry vicinity to ensure that demonstrators do no enter the premises. Speaking to media, the protesters asserted that they are demanding the government to take adequate steps to support the most-affected people due to the deteriorating economic conditions.
In addition to the protests, traders in Lebanon also expressed anger against the decision of the authorities to temporarily shut down businesses due to COVID-19. Beirut Traders Association President Nicolas Chammas informed Caretaker Interior Minister Brig. Gen. Mohammed Fahmy that "traders are angry due to the lockdown decision and the repercussions of the closure on their income amid the prevailing crisis. He further urged the minister to reconsider the decision. Last week, Lebanese army helicopters dropped leaflets over the city neighbourhoods that warned residents to adhere to lockdown measures.
The flyers read: "Remain quarantined at home, COVID-19 is no joke." Interior Minister in the caretaker government, Mohammed Fahmy, said that the authorities need more time to study the results of the second lockdown in order to allow the resumption of activities across the sectors. According to authorities, lockdown measures imposed between March and June helped in limiting the initial outbreak.
At a time when Lebanon's hospitals and healthcare sector were strained in handling the surging cases of COVID-19, the unprecedented port blast in Beirut in August added to their crisis. Killing almost 200 people and injuring thousands of others, the massive blast caused physical damage of $4.6 billion and economic damage worth $3.5 billion. The number of new COVID-19 infections also soared after the devastative blast in the Lebanese capital.
However, even before the port blast, the Arab nation has been struggling with an economic crisis that has resulted in the collapse of its currency and plunged many into unemployment and poverty.