Bahrain Defense Agreement | US Strategy to Influence Middle East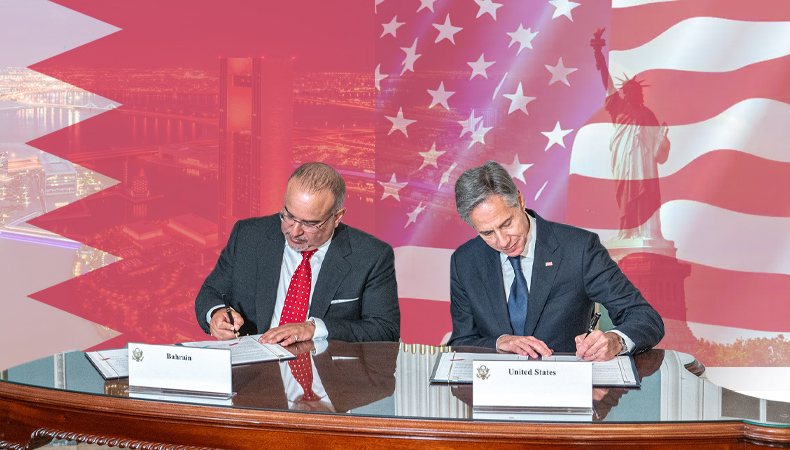 The United States has signed a defense agreement with Bahrain, signaling Washington's support for the Arab world. The defense agreement between the United States and Bahrain will help to expand the two countries' defense and economic ties. 
On Wednesday, Bahrain's Crown Prince Salman bin Hamad Al Khalifa and US Secretary of State Antony Blinken signed an agreement to boost defense ties.
US strategy for Middle East
With the help of this agreement, the Joe Biden administration in the United States aims to maintain its influence in the Middle East region.
After signing of the security and economic agreement, Antony Blinken said, "At the heart of the agreement is a shared goal: working together to build a region that is more secure, more prosperous, and that's more connected to the world economy."
Details of the deal will be made public in the coming days. The deal is set to boost existing US-Bahraini military ties. 
Keep Reading
Reportedly, the Gulf countries have asked the US to give them greater assurances that Washington will defend them from external threats.
A senior official reportedly said, "The aim of an agreement like this is to ensure that you never get to that worst-case scenario."
Why the agreement matters to the US
The Biden administration has long pursued an approach to build a broad Middle East coalition to deter the Islamic Republic of Iran. The US has also been negotiating with the Kingdom of Saudi Arabia about a major U.S.-Saudi defense pact and the possibility of normalizing relations between Saudi Arabia and Israel.
The Biden administration aims to establish diplomatic relations between Saudi Arabia and Israel. The US also wanted to sign a security pact and a nuclear programme with Saudi Arabia.
Bahrain also hosts the United States Navy's Fifth Fleet and the headquarters of the United States Naval Forces Central Command, which can encourage Gulf countries to emulate.
Previously, Bahrain allowed the US aircraft to launch the first strikes on Iraqi soil in 2014. Bahrain was the first nation to partner with the United States Navy's new artificial intelligence-enabled drone task force in 2021.
The US already aims to become the global leader in artificial intelligence (AI) technology.