Beirut explosion: Officials warned over 10 times about piled explosives at the port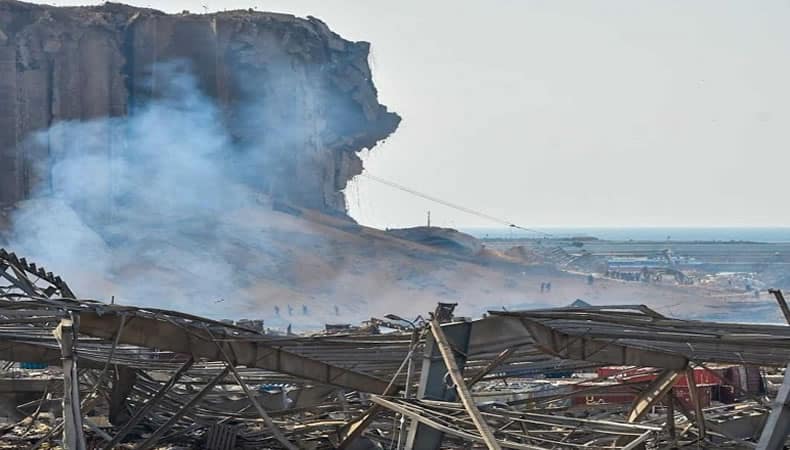 On Friday, Lebanon officials said that the catastrophic blast near Beirut port could have been averted as frequent warnings were sent to the government authorities regarding the volume of chemical explosives piled near the port for past 6 to 7 years.
Anger started building up in its people when investigation reports exposed how at least 10 times over the past six years, officials from different departmentsincluding customs, military, security agencies and judiciary warned government of massive 2,750 tons of ammonium nitrate stockpiled at the Beirut port, with almost no safety guard.
The new documents which surfaced on Friday revealed how Lebanese government's corruption, negligence and incompetence failed its people, leaving hundreds dead and thousands injured. As per the official data, the death toll of blast victims has reached 154, including bodies recovered from the rubble on Friday, and more than 5,000 people were wounded.
President Michel Aoun, serving his term since 2016, said that he was first informed of the dangerous chemical sitting in the port warehouse about three weeks ago and instantly ordered military and security agencies to do what was required.He explained that his responsibility ended there as he did not have any authority over the port and added that previous governments were aware of its presence.
Read more : While Beirut is still counting the victims, Turkey attacks Israel trying to hide its responsibilities
Aoun during his media conferee was brushing off any responsibility to deter the attack and said, "The material had been there for seven years, since 2013. It has been there, and they said it is dangerous and I am not responsible. I don't know where it was placed. I don't even know the level of danger. I have no authority to deal directly with the port."
Aoun provided a different narrative to the Beirut tragedy and suggested that the blast could have been an attack rather than an accident. Lebanese President said: "The incident might be a result of negligence or external intervention through a missile or a bomb, and I have asked French President Emmanuel Macron to provide us with aerial photos to determine whether there were planes or missiles, and if the French did not have such photos then we might seek them from other states to determine if there was a foreign assault." Aoun's statement was made withreference to the French President visit to Lebanon after the blast.
In an assurance to the people of Beirut, Aoun said that Lebanon's courts would put all officials related to the blast on trial regardless of their ranking. So far the authorities have taken 16 port employees under police custody for interrogation
Besides, many nations including US, France, and UK have stepped forward to provide the much needed financial aid to Beirut, which has been reduced to rubble by the most deadly explosion in its history. The country already struggling with years of economic crisis and civil war has gone far down from where it was as the damage would cost it billions of dollars.