Defeat for Israel if it Enters by Land: Hamas Chief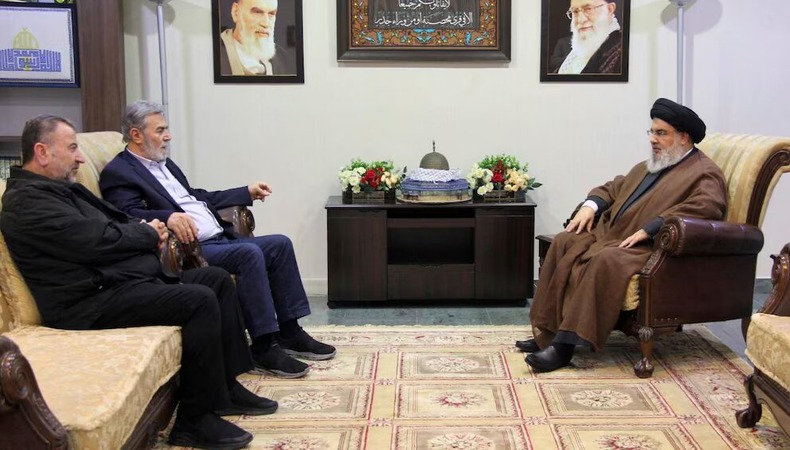 As Israel's ground invasion into Gaza looms heavily over the Middle East, Hamas says it will be an unprecedented defeated for Israel. Saleh al-Arouri, the Lebanon-based deputy head of the Hamas political bureau, claims Hamas terrorists are in good condition despite Israeli strikes on the Stripe.
Hamas stepped up its rhetoric as Israel Defense Force troops conducted a limited raid ahead of their ground offensive. This raid was led by the Givati infantry brigade and the 162nd Armored Division. The IDF said it was part of preparing the border area for the next stages of the war, including the full ground offensive.
The Israeli army said their soldiers struck numerous terrorist infrastructure, and anti-tank guided missile launch positions. It was an operation to prepare the battlefield.
Anti-Israel Militant Groups Meet
A senior Hamas and Palestinian Islamic Jihad leaders, met with Hezbollah on Wednesday in Beirut. According to various reports, Hassan Nasrallah, Hezbollah leader, agreed with Hamas' Saleh al-Arouri and Islamic Jihad's leader Ziad al-Nakhleh on the next steps that the three groups and other militants should take at this sensitive stage in the Middle East.
These militant groups – Hezbollah, Hamas and Islamic Jihad – want to achieve a real victory for the resistance in Gaza and Palestine, and put an end to Israel's treacherous and brutal aggression against the oppressed and steadfast people in Gaza and the West Bank.
With the Israel-Hamas war in Gaza running in its third week, over 6,000 Palestinians, majority being children and women, and 1,400 people in Israel have been killed. Escalations continue from the Israeli side with rapid airstrikes, spiraling the death toll in Gaza.
Hezbollah militants have also been firing at Israeli soldiers from the Lebanon border. The Lebanese militant group warned Israel against its planned ground invasion, but IDF said it would retaliate aggressively if a cross-border attack by Hezbollah takes place.
Keep Reading
Western World Complicit in Israel-Hamas War: Jordan Queen Rania
Iran is Not the 'Bad Guy' Here, its Israel's Narrative
Israel is Only Targeting Hamas
Israeli Prime Minister Benjamin Netanyahu said they will cripple the militant groups with a force it cannot even imagine. "The consequences for it and the Lebanese state will be devastating."
Israel reiterated that its war is against Hamas. It aims at destroying Iran-backed terror group's infrastructure. Moreover, the Israeli government vowed to dismantle Hamas after the October 7 strike. According to the Israeli Air Force, there are more than 10,000 sites belonging to Hamas. There have been reports about Hamas' booty traps, bombs, and underground tunnels, which are yet to be seen.