Hamas Fuels Extremism in Middle East Through Palestine
From Al-Shabaab to Al-Qaida, to Boko Haram to ISIS, Hezbollah and Hamas, militant groups in the Middle East and Africa have only crushed peoples' aspirations, democracy and development. These warring terrorist have displaced millions of people and engaged conflicted parties in bloodshed.
Hamas, a Palestine-based militant group also called the Islamic Resistance Movement, has been against Israel's occupation of the West Bank and Gaza Strip since the 1980s. After Israel withdrew its soldiers and settlers from Gaza in 2005, Hamas took up politics and societal programs. It is popular because it provides education health and medical services (hospitals), and social services. However, the group kept its military wing alive. It has been engaged in proxy conflicts against Israel.
Hamas a Terror Group
The US, UK and the European Union, Canada, as well as Israel, have declared Hamas a terrorist group. After Hamas launched Operation Al-Aqsa Flood against Israel on October 7, 2023, the US Department of Treasury imposed sanctions on 10 key Hamas terrorist group members, operatives, and financial facilitators in Gaza, Sudan, Turkiye, Algeria, and other countries.
US sanctions target Hamas and terrorists managing assets in a secret Hamas investment portfolio. The United States wants to uproot Hamas' sources of revenue in the West Bank, Gaza, and across the region. The militant group's proxies, including Iran-backed extremist group Hamas and Extremist Hezbollah and other terrorist groups in the region.
Targeting Hamas Finances
Janet L. Yellen, Secretary of the Treasury, said the US is taking swift and decisive action to target Hamas and terrorism, financiers and facilitators following its brutal and unconscionable massacre of Israeli civilians.
"The US Treasury has a long history of effectively disrupting terror finance and we will not hesitate to use our tools against Hamas. We will continue to take all steps necessary to deny Hamas terrorists the ability to raise and use funds to carry out atrocities and terrorize the people of Israel. That includes by imposing sanctions and coordinating with allies and partners to track, freeze and seize any Hamas-related assets in their jurisdictions."
Hamas Breeds Extremism
Hamas is more than a Palestine-based militant group. It supports Islamic Jihad movement in Palestine. The PIJ is considered one of the most extreme and uncompromising Palestinian armed factions and operates in the West Bank.
What's alarming is that PIJ rejects any political peace process. It regards military victory over Israel as the only means of transforming Israel into an Islamic state, including Gaza and the West Bank. This group is working with Hamas and holds Israeli hostages.
Keep Reading
Hamas and Hezbollah 'Geared for Major War' Against Israel
EU is 'All Talk', Failed to Help Palestine: PA Leader Abbas
In the past conflicts, Hamas was engaged in suicide bombings. Evident here: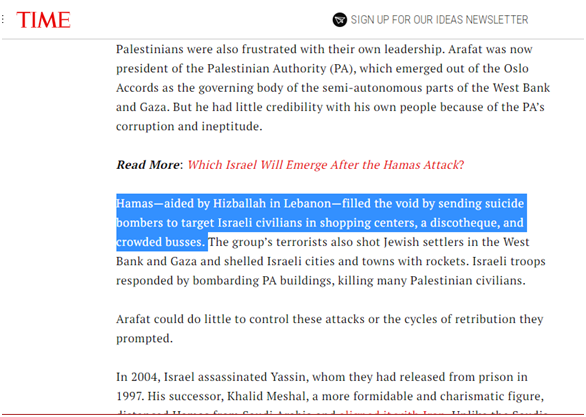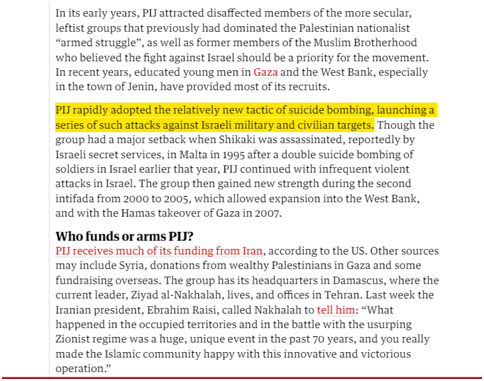 Moreover, Hamas has associations with the Muslim Brotherhood, a group which has been banned in Egypt, Saudi Arabia, Bahrain, the UAE, Syria, and Russia. These countries see the Muslim Brotherhood as a terrorist group since 2015. A report says Hamas and Muslim Brotherhood bond is uniquely inseparable.
Hamas and extremist groups in the region are inclined towards Palestine because of the Al Aqsa mosque. This is the second-oldest and third sacred shrine in Islam. Its location on the southern side of the Temple Mount is a blessed sanctuary.