Israel Benjamin Netanyahu's UN Speech of 'The New Middle East'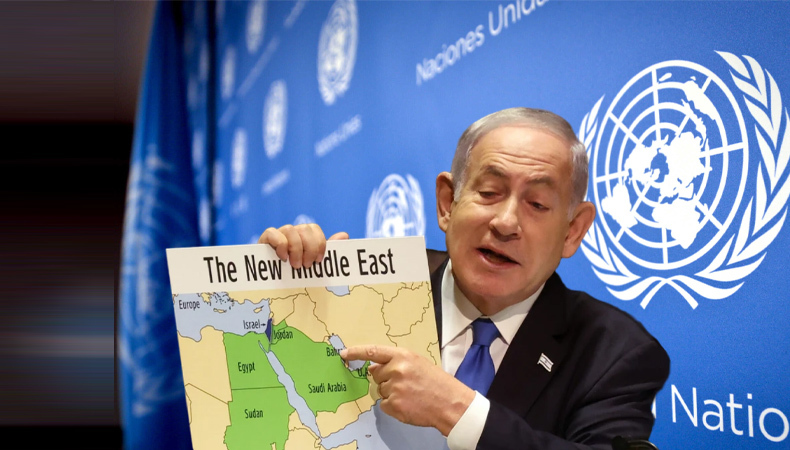 Israel Prime Minister Benjamin Netanyahu's speech at the UN will be remembered for years to come, for all the wrongs. He failed to impress but drew attention of the near-empty hall to the map of "The New Middle East".
Netanyahu harped about normalized relations with Saudi Arabia and belittled countries for failing to effectively handle Iran's nuclear plans. Back at home in Israel, he is facing anti-government protests for the abrupt judiciary overhaul. The Israeli government said the Supreme Court has no authority to even review the reasonableness amendment to a quasi-constitutional Basic Law, and debate could lead to anarchy.
This decision has seen the country plunge into an unprecedented political crisis. Hundreds of thousands of Israelis are coming onto the streets to participate in weekly demonstrations against the Netanyahu-led government. But the Israeli government is adamant, saying no one will stop them from going through.
Netanyahu's New Middle East
And now Netanyahu has turned heads with his New Middle East map that will surely draw protests of countries in the region. These maps, which he revealed at the UN last Friday, shows the West Bank and Gaza within the boundaries of Israel. The first map highlighted Israel's geography in 1948 without allies, and the second one included Israel and countries that it has peace agreements with – Egypt, UAE, Sudan, Saudi Arabia, Bahrain and Jordan.
The Israeli prime minister, as per Israeli media, showed a new era of peace in the Middle East that would include Palestine, but he actually showcased a map without Palestine. Hadar Susskind, Americans for Peace Now CEO, believes Netanyahu is returning to his government of fascists, felons, and fundamentalists, which in both action and words contradict his bogus rhetoric of peace. He said Netanyahu's map of Greater Israel is perhaps the only honest part of his speech.
Laith Arafeh, Palestinian Authority's representative to Germany, said there's no greater insult to every foundational principle of the UN than seeing Netanyahu display the UNGA a map of Israel that straddles the entire land from the river to the sea. 
Keep Reading
Iran Boils Over Netanyahu's Threats
And in Israel's New Middle East, there's no space for Iran's nuclear programme. Netanyahu said in the UN speech that Western powers promised eight years ago that if Iran violated the nuclear deal, the sanctions would be snapped back. "Well, Iran is violating the deal but sanctions have not been snapped back. To stop Iran's nuclear ambitions, this policy must change. Sanctions must be snapped back." 
The Israeli PM said Iran must face a credible nuclear threat. "As long as I'm prime minister of Israel, I will do everything in my power to prevent Iran from getting nuclear weapons." Iran lashed back saying Netanyahu had made explicit threats to use nuclear weapons against an independent member state of the United Nations.
Amir Saeid Iravani, Iran's UN Ambassador, said the severity of such a threat is incomparable and will cause a great shock to the international community, especially when such a threat comes from a credible forum. "The use or even the mere threat of using nuclear weapons regardless of the circumstances, is a clear violation of international laws."