Egypt increases its aid to Sudan ahead of the third filling of the Nile dam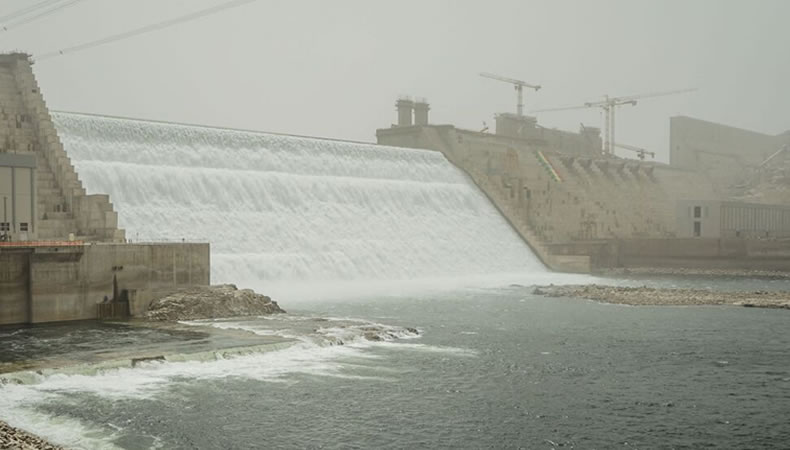 Egypt–Following a surprise visit to Cairo by Sudanese commander Lt. Gen. Abdel Fattah al-Burhan, Egypt declared that it has dispatched "aid packages, logistical, and humanitarian help to Sudan." Burhan, the Sudanese military chief and chairman of the Sudanese Sovereign Council, paid a visit after a series of travels to Arab and African cities in recent days. Several Sudanese envoys have also been deployed to African nations, the most recent of which being Sovereign Council member Ibrahim Jaber's visit to Rwanda on March 31.
Burhan's visit, which included a meeting with Egyptian President Abdel Fattah al-Sisi on March 30, comes as the flood season approaches and Ethiopia remains committed to finishing the filling of the Grand Ethiopian Renaissance Dam (GERD) on the Blue Nile, which began generating electricity in February. The GERD negotiations between Egypt, Ethiopia, and Sudan have been put on hold. The third filling will take place in July. Sisi and Burhan declared during a news conference in Cairo that Egypt and Sudan had decided to maintain mutual collaboration on GERD progress.
They emphasized that water is a national security priority for the two nations, and that they are working to reach a fair, legal, and enforceable agreement for filling and running the dam. Sisi also emphasized the need of working together so that "current events on the world stage do not detract from efforts to assist Sudan in achieving political, security, and economic stability."
Related Posts
Following the negotiations, all parties emphasized the significance of strengthening economic ties and expanding commercial interchange. They also stressed the need of achieving agricultural integration and completing the Electric Interconnection project, while also enhancing joint security and military cooperation. Sisi and Burhan also addressed "the affairs of the Sudanese community in Egypt," according to the statement. "Its commitment to profiting from the transfer of Egyptian expertise in economic reform, educating Sudanese cadres, and giving them with aid in addressing obstacles," the Sudanese side added.
Former Egyptian deputy foreign minister, former Egyptian ambassador to Beijing, and member of the Egyptian Council for Foreign Affairs Ali el-Hefny told Al-Monitor that both nations want to improve their integration in all areas, particularly economic, technological, security, and energy cooperation. He also stated that Egypt is committed to Sudan's domestic stability. "Sudan is a neighboring nation for Egypt, and what happens there affects us," Hassan Salama, a political science professor at Cairo University, told Al-Monitor.
"The ball is in Ethiopia's court," he continued, referring to Ethiopia's tardiness in dealing with the GERD situation. He also noted that the Libyan problem is one of the topics that both Egypt and Sudan are concerned about, but that Egypt does not intervene in the Libyan situation, emphasizing that Libyan officials are the ones who have requested Egyptian assistance.
Ethiopia marked the 11-year anniversary of laying the foundation stone for the GERD last week, according to Abbas Sharaki, a professor of geology and water resources at Cairo University. The dam was planned to be finished in 2017. "It was Ethiopia's failure that hampered the completion of the dam's phases," he explained. In the midst of the deadlocked trilateral discussions, Ethiopian Prime Minister Abiy Ahmed commissioned the first turbine of the disputed project, which has a capacity of 375 megawatts. Meanwhile, Egypt and Sudan continue to emphasize the need of reaching a tripartite agreement on the dam's filling and operation, while Ethiopia claims that its dam is not intended to damage anybody.