Sudan: A protester is slain as hundreds demonstrate three years after the anti-Bashir revolt began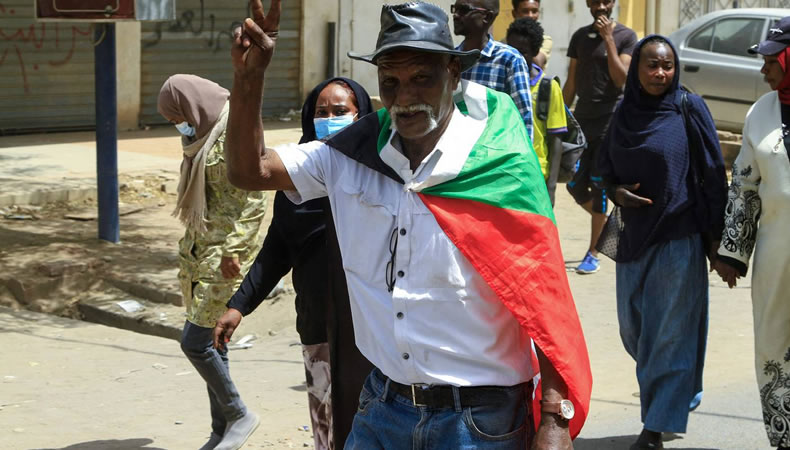 Sudan–On the anniversary of past public uprisings, most notably against tyrant Omar al-Bashir three years ago, a Sudanese protester was slain as thousands gathered against last year's military coup. During the assault on demonstrators in eastern Khartoum, the 19-year-old was struck "by a gunshot fired by coup troops," according to the independent Central Committee of Sudan Doctors.
According to the committee, his death puts the total number of those killed in the crackdown on anti-coup rallies since the military coup headed by army leader Abdel Fattah al-Burhan on October 25 to 94. Witnesses and AFP journalists reported security forces shot tear gas at protestors in Khartoum's capital, Omdurman, and Wad Madani in the south. According to the physicians committee, they also "stormed Al-Jawda hospital and shot tear gas inside, terrifying patients and health personnel and causing asphyxia in some of them."
Sudan has been wracked by upheaval since its most recent coup, which has thrown a political transition into disarray and wreaked havoc on one of the world's poorest economies. Pro-democracy groups have warned of a people's power "earthquake of April 6" — a pivotal day in Sudan's history when previous strongmen were deposed. Following a public revolt, President Jaafar Nimeiri was deposed on this day in 1985. After months of protests against Bashir's three decades in power, a large sit-in outside army headquarters began in 2019.
Related Posts
"It is a crucial day… so we anticipate many people to walk to the streets despite the heat and Ramadan," a Muslim holy month during which the devout fast during the day, said Badwi Bashir, a Khartoum demonstrator. "All we want to do is bring down the coup (leadership) and put a stop to the possibility of future coups." As demonstrators sat to break their fast in Khartoum and other cities at twilight, volunteers were spotted offering water, juice, dates, and other food, according to AFP journalists.
'No to military control' is a rallying cry.
Sudan's newest coup has "lit a fire under all sectors of existence, turning our country into a crisis zone," according to the civilian alliance Forces of Freedom and Change (FFC). Security troops had already deployed around the presidential palace and army headquarters, sealing off major bridges. According to an AFP journalist in Omdurman, protestors smashed over barbed wire barriers and marched through streets heading to the parliament building.
According to one witness, Ahmed Salah, protesters marched in the eastern state of Gedaref with placards reading "No to military dictatorship" and "Away with the government of hunger." According to witnesses, demonstrations were organized in many locations across the Darfur area, the central state of North Kordofan, and the Red Sea metropolis of Port Sudan. Generals surrendered to popular pressure to remove Bashir five days after the commencement of the 2019 sit-in. The protestors continued to urge for civilian government, only to be dispersed in a crackdown by men in military fatigues in June of that year, which medics say killed 128 deaths.
Sudan's civilian and military leaders subsequently agreed on a power transfer that promised increased international participation as well as foreign aid and investment for the country. However, last October's coup threw those plans into disarray, sparking the current wave of demonstrations. The partnership has 'failed.' Last Monday, FFC spokesperson Jaafar Hassan warned, "We have to defeat the coup."
"We attempted a relationship with the military, which failed and resulted in this coup, and we should not do it again." Last Saturday, Burhan stated that he would only "give up power to an honest, elected leadership that is acceptable by the Sudanese people." The US warned against "the use of any violence" and insisted that Sudanese authorities "honor their commitment and hold anyone responsible for atrocities accountable." Sudan's already ailing economy has taken a hit since the coup, as Western donors withheld essential help until the return of democratic leadership.
Food, gasoline, and basic goods prices have risen sharply, and criminality has increased. According to the UN, violence has increased in distant places, notably in the restive Darfur region. After Perthes warned of the escalating situation in Sudan during a UN Security Council briefing, Burhan threatened to eject UN special representative Volker Perthes, accusing him of "intervention" in the country's affairs.