EU Election Observer say, "Surprisingly Elections in Iraq were Well Conducted and Competitive"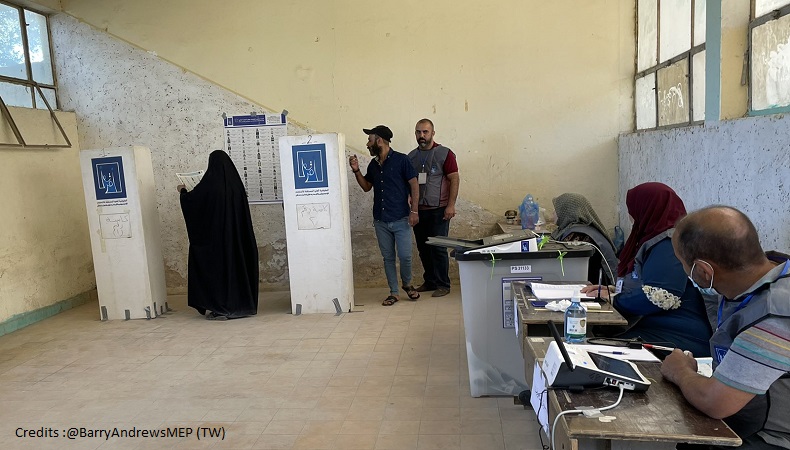 Iraq–After the Elections, EU Election observer Viola von Cramon-Taubadel stated on Thursday during a panel discussion that she was surprised to see that Iraqi elections were fair, competitive, and well-conducted, despite low voters' turnout and exclusion of several groups.
 
IN AUGUST, the EU Election Observation Mission observed the Iraqi Election process, which sent Viola von Cramon-Taubadel, a German member of the European Parliament, to watch over the officials and candidates preparing for election day on October 10.
 
The Observation Mission had stated before; we try to cover as much as we can. And we hope that people consider this support as support for the citizens, for the voters and that makes it more legitimate for everyone," The Arab News reported.
 
Before leaving for the observation mission, Viola had stated that "My expectation is just that we see fair, free, inclusive, transparent, credible elections."
 
Viola added, "It was a special experience being the first chief observer for EU's Election Observation Mission. "Coming from an exceptionally civil society in Germany and a strong political environment in a post-Soviet world, I have never witnessed anything like this before, she added." 
Viola said that the preliminary statement of the observers was essential and that the low voter turnout was because of structural issues, like lack of access and administrations for individuals with special needs.
A high degree of safety and security at voting stations additionally impeded admittance, and a few segments of the populace faced technical issues like elector cards didn't work, and biometric systems failed to work in some cases.
However, while comparing the Iraqi elections with elections in Berlin, we have encountered similar issues. However, in terms of the fundamentals, Iraq managed relatively fine, she added.
Viola added, "as far as administration; voters knew what they were doing; for the most part, the technology worked, I can't say that for Berlin, genuinely."
Concerning accusations of vote fixing and fraud, Viola said the UN Assistance Mission for Iraq has detailed papers on the election, and they have not found any proof of this.
Showing her confidence in Iraq's Independent High Electoral Commission, she added that if any signs of scam or fraud are found, it ought to be submitted to authorities so that EU observers can conduct the appropriate lawful investigation in the matter.