Founder of Wagner Mercenary Group Spotted in Russia After Leading Armed Rebellion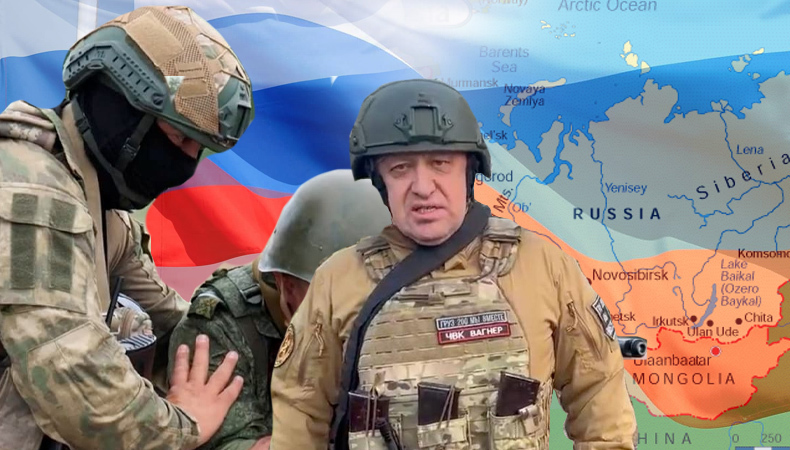 The founder of the Wagner private military firm, Yevgeny Prigozhin, has been spotted in Russia for the first time since last month when he oversaw an armed uprising against the Russian military. Prigozhin was reportedly seen in St. Petersburg meeting with an African dignitary outside of the Russia Africa summit, according to accounts connected to the mercenary outfit.
The dignitary is a delegation representing the Central African Republic at the summit. As previously reported by CNN, Wagner has been present in the Central African Republic for several years. The image of Prigozhin and the dignitary was geolocated to St. Petersburg's Trezzini Palace Hotel, where Russian media reports that the founder of Wagner maintains an office. Following the uprising, on July 6, Russian officials searched several locations, including this hotel.
Prigozhin had only appeared in public once since the uprising, on July 19, in a video that appeared to show Wagner fighters being welcomed at a base in Asipovichy, Belarus. A longtime ally of Russian President Vladimir Putin, Belarusian President Alexander Lukashenko, claimed to have persuaded Putin to refrain from using harsh measures against Wagner and Prigozhin during the uprising.
The uprising of Prigozhin constituted a severe threat to Putin's lengthy leadership. Before the Russian invasion of Ukraine, where Wagner's mercenaries played a significant role in numerous conflicts, Prigozhin and his fighters preferred to work in the shadows. Relations between the founder of Wagner and Putin go back to the 1990s when he gained notoriety for negotiating large catering contracts with the Kremlin and was dubbed "Putin's chef."
After the 2014 Russian-backed separatist rebellion in Ukraine's Donbas area, he became a vicious warlord. Prigozhin established Wagner as a covert mercenary group that worked in Ukraine before eventually expanding its support for numerous Russian-backed groups worldwide.
In crisis areas like the Central African Republic, Sudan, Libya, Mozambique, Ukraine, and Syria, CNN has been monitoring Wagner mercenaries. Over the years, the gang has earned a terrible reputation and has been associated with numerous human rights violations.
Wagner forces were instrumental in conquering several Ukrainian cities, including Soledar and Bakhmut, following Russia's invasion of Ukraine in 2022. Prigozhin was critical of the leadership of the Russian military and the assistance given to his troops despite their victories.
ALSO READ : North Korea's Kim Jong Un Meets with Russia's Defence Minister
In a video from the beginning of May, Prigozhin could be heard openly denouncing Sergei Shoigu, the Russian defence minister, and Gen. Valery Gerasimov, the commander of the Russian armed forces, for their conduct while standing next to slain Wagner fighters. By juxtaposing their efforts with the luxury experienced by military leadership, the video emphasised the sacrifices made by the Wagner volunteers.
Yevgeny Prigozhin's recent appearance in Russia has raised questions about the Wagner mercenary group's potential future activities and their potential to influence local disputes.