Saudi Arabia: NEOM McLaren Formula E unveils world first AI-designed racing car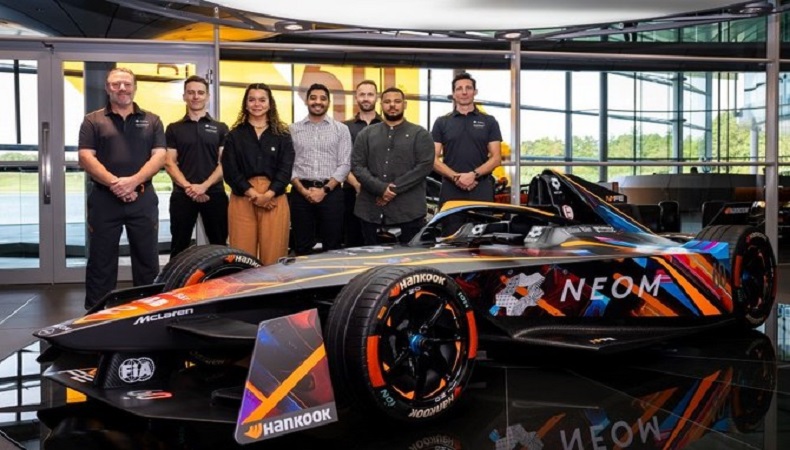 The NEOM McLaren Formula E Team has unveiled the world's first AI (artificial intelligence) designed racing car to celebrate McLaren Racing's 60th anniversary year at this weekend's London E-Prix.
The car is designed using generative artificial intelligence (AI) by the motor racing team and Saudi students. McLaren Racing Limited is a motor racing team based at the McLaren Technology Centre in Woking, Surrey, England.
The AI-generated design will appear on the NEOM McLaren Formula E Team race cars. The livery is a collaboration between the Kingdom of Saudi Arabia's NEOM and McLaren Racing. It features AI generated artwork built on ideas provided by drivers René Rast and Jake Hughes, as well as four Saudi students from NEOM's Graduate Development Program.
In 2022, NEOM, a new urban area planned by the Kingdom of Saudi Arabia, announced a title partnership agreement with McLaren Formula E and Extreme E racing teams to make the AI designed racing cars. 
Saudi NEOM Graduates will join the NEOM McLaren Electric Talent Programme by the end of 2023. The twelve-month development program will welcome various Saudi graduates to the team over the next few years. 
Nadhmi Al-Nasr, CEO of NEOM, reportedly said, "The NEOM McLaren Formula E Team partnership supports various NEOM commitments. We have leveraged creative and innovative technology to create the AI-generated livery to celebrate McLaren's anniversary."
Zak Brown, CEO of McLaren Racing, reportedly said, "We are happy to work with NEOM on the creation of the first AI-designed livery in motorsport. McLaren has a long history of innovation in motorsport."
The Kingdom of Saudi Arabia has reportedly invested heavily in motorsport in recent years. The Kingdom's Ministry of Sport also signed agreements to host prestigious events like Formula E, Extreme E, Formula One and the Dakar Rally.