Four dead in attack near Tunisian synagogue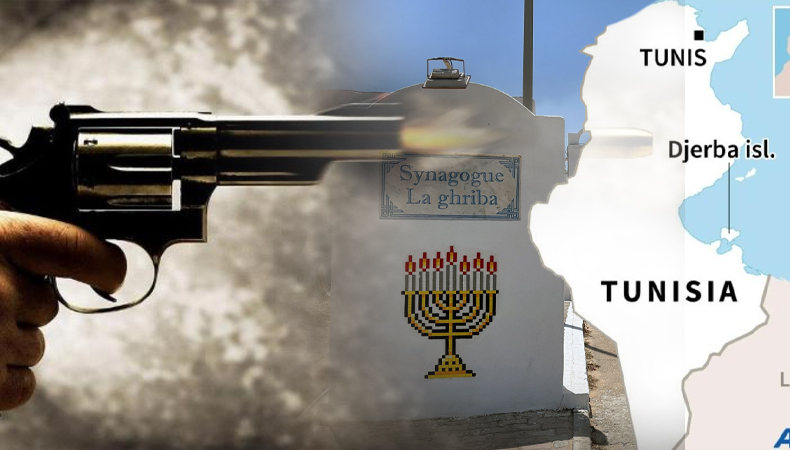 The authorities said that two security personnel and two tourists were murdered in an incident near a synagogue in Tunisia on Tuesday, which happened during an annual pilgrimage to the island of Djerba that brings hundreds of Jews from Europe and Israel.
Also Read – As the death toll rises, Tunisia rescues 41 migrants who have drowned
According to a statement from the Interior Ministry, a guard at a naval base on Djerba organized the attack by shooting a fellow guardsman and taking his ammunition before entering the synagogue.
The assailant opened fire randomly at security posts close to the synagogue, killing two guests and one security guard while wounding five guards and four other people. He was then killed by security personnel, according to the Interior Ministry.
One of the tourists slain was French and one was Tunisian, according to the foreign ministry of Tunisia.
Reuters was unable to quickly confirm a video released on social media that showed terrified-looking individuals standing in a courtyard as a gunshot rang out. The island's inhabitants claimed to have heard gunfire.
Although Islamist extremists have attacked the pilgrimage in Djerba before and have launched other assaults in the nation, authorities have not yet determined a reason for the incident.
A bomb that targeted police outside the US embassy in 2020 and resulted in one officer's death was Tunisia's most recent serious incident. In 2019, two suicide bombings struck police outside the French embassy, killing one officer in each.
In two separate assaults in 2015 at a beach resort and a museum in Tunis, jihadist extremists murdered a large number of visitors.
Hundreds of Jews from Europe and Israel frequently go to Djerba, a vacation island off the coast of southern Tunisia, 500 km (300 miles) from the country's capital Tunis, as part of their yearly pilgrimage to Africa's oldest synagogue.
Since Al-Qaeda extremists struck the synagogue in 2002 with a vehicle bomb, killing 21 Western visitors, the pilgrimage has been subject to strict security.
One of the largest Jewish populations in North Africa is found in mostly Muslim Tunisia. Jews have resided in Tunisia since Roman times, albeit there are currently less than 1,800 of them.
Also Read –  Islamist leader Ghannouchi of Tunisia is detained, and party headquarters are searched
According to a tweet from the US embassy, US ambassador Joey Hood and Deborah Lipstadt, the country's representative for tracking and fighting anti-Semitism, went to the synagogue on Monday.