iPhone 14 vs. iPhone 15: Unpacking the Evolution of Apple's Flagship Series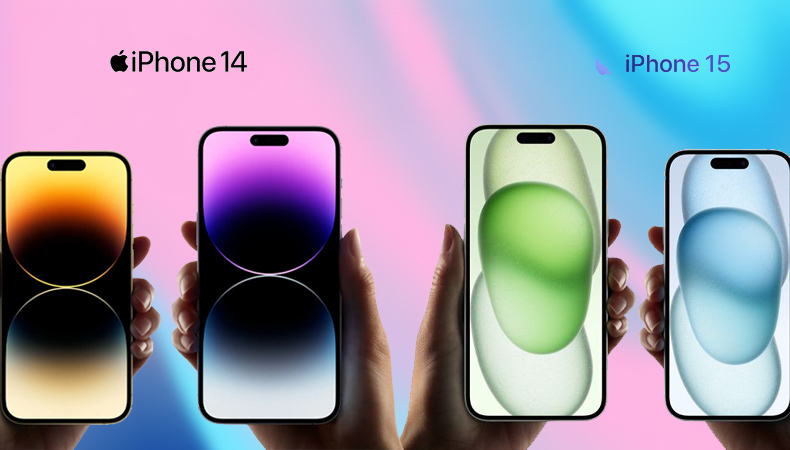 With the introduction of the iPhone 15 series, which includes four separate models—the iPhone 15, iPhone 15 Plus, iPhone 15 Pro, and iPhone 15 Pro Max—Apple's continuous pursuit of innovation in the smartphone market continues. This essay will examine the thorough contrast between the recently introduced iPhone 15 and the iPhone 14 that came before it. We'll look at a range of topics, including pricing, functionality, and the inclusion of cutting-edge elements like Dynamic Island technology and USB Type-C charging.
Since its release, the iPhone 15 has had a big impact on technology trends in the Arab world. It has earned a reputation for prestige and innovation in the area because of its potent A16 Bionic chipset and outstanding camera system. The launch of Dynamic Island technology, which eliminates the notch, has been favorably received by Arab consumers who value simple and engaging smartphone experiences.
Additionally, adopting USB Type-C charging has been welcomed as a step towards establishing universal connectivity standards. A new generation of influencers and producers has been motivated by the iPhone 15's bright display and sophisticated camera features, which have also lifted mobile photography and content creation trends throughout the Arab world. Overall, the iPhone 15 has raised the bar for Arab technology, demonstrating the region's growing demand for cutting-edge devices and first-rate mobile experiences.
Pricing and Availability
The price gap between the iPhone 14 and iPhone 15 is one of the most obvious distinctions. The iPhone 15 starts at 79,900 rupees in India, compared to the iPhone 14's pricing of 69,900, making the newer handset somewhat more expensive. The iPhone 15 Plus, which replaces the iPhone 14 Plus, starts at 89,900 rupees instead of the former model's 79,900 rupees.
Specifications
The features of these two devices also demonstrate Apple's dedication to advancing smartphone technology. The Apple A15 Bionic chipset powers the iPhone 14, which was released the year before. It offers storage options of 128GB, 256GB, and 512 GB. It has a ceramic barrier for enhanced protection and a 6.1-inch Super Retina XDR display with a resolution of 2532×1170 pixels. A 12MP primary sensor and a 12MP ultra-wide sensor are both part of the camera system.
In sharp contrast, the iPhone 15 features a 6-core CPU for improved performance and an A16 Bionic SoC with two high-performance cores that cut battery consumption by 20%. The remarkable 16-core Neural Engine from Apple is capable of processing about 17 trillion operations per second. The iPhone 15's camera system has seen a major improvement, now sporting a 48 MP primary camera with a quad-pixel sensor and 100% Focus Pixels for quick autofocus.
Display
The iPhone 15's screen has seen significant enhancements from Apple even if the display size is the same at 6.1 inches. It now has a stunning 2000 nits of brightness, which is twice as bright as the previous version and improves the viewing experience as a whole.
Dynamic Island Technology
The inclusion of Dynamic Island technology is one of the iPhone 15's notable features. Users now have a more natural way to interact with their iPhones thanks to this technology, which takes the place of the notch seen on the iPhone 14 and 14 Plus models. This ground-breaking function is evidence of Apple's commitment to improving user experience.
Keep Reading
USB Type-C Charging
The iPhone 15's switch from the exclusive lightning connector used in the iPhone 14 series to USB Type-C technology for charging is another notable modification. Apple now adheres to the USB-C standard, which gives users additional flexibility and ease.
Netizens React
Users on X (previously Twitter) had a remarkable response to Apple's inclusion of USB Type-C technology in the iPhone 15 series. Many people felt compelled to share their opinions about this important development, especially because it was the result of pressure from EU regulators. As a lighthearted response to Apple's comparatively late adoption of USB-C charging, some users shared an old video of Tim Cook, illustrating the company's historical fondness for its proprietary connectors.
Others joined the discussion with memes that jokingly contrasted the iPhone 15's USB-C port to those on their Android counterparts, in the spirit of internet culture, illuminating the fiercely competitive world of smartphone technology. This response to the release of the iPhone X demonstrated the lively and involved character of tech aficionados who actively monitor Apple's innovations and are quick to voice their ideas in original ways.
In conclusion, the iPhone 15 represents a significant advancement in Apple's line of premium smartphones. Although it costs a little more than its predecessor, it boasts significant performance, camera, and display quality upgrades as well as the introduction of ground-breaking innovations like Dynamic Island technology. Along with conforming to industry standards, Apple's switch to USB Type-C charging. It's up to the individual whether these improvements make it worthwhile for current iPhone customers to upgrade, but it's obvious that Apple continues to set the bar high in the cutthroat smartphone market with its iPhone 15 series.