Political assassinations strike again in Tunisia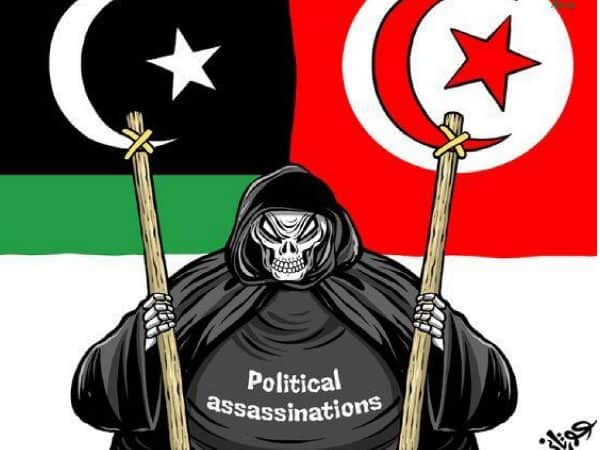 The Tunisian Interior Ministry has informed 5 political figures, including 4 deputies of the existence of serious terrorist threats targeting them. The security authorities suggested that they are protecting the threatened persons 24/7.
"The security services have informed me officially of the existence of terrorist threats targeting me," said Salem al-Bayd, the deputy and leader of the People's Movement,in a post on his official Facebook page.
The Tunisian Interior Ministry informed the People Movement's General Secretary Zuhair al-Maghzawi, of the existence of "serious terrorist threats against him", according to his statement.
In addition to the People's Movement's leaders, the terrorist threats reached within two days said the leadership in the democratic trend, the representative Samia Abbou and the independent deputy Al-Safi.
"The security authorities have officially informed the party's Secretary-General, Essam Al-Shabi, of terrorist threats threatening him," The Republican Party announced, adding that "Al-Shabi was asked to" take the necessary precautions, "according to the official statement.
There are fears that Tunisia will return to the square of political assassinations that it knew in 2013, especially as the country is under a state of alert to confront the Coronavirus.
The security services had thwarted the assassination plot of the Popular Party's leader, Mubaraka Awaina, the martyr Muhammad Brahmi's widow. The Popular Party announced last January.
Tunisia witnessed the assassination of the Democrats Movement's former Secretary-General, Shukri Belaid on February 6th, 2013, and the Popular Movement's General Coordinator, Mohamed Brahmi, on June 25th of the same year.
The Interior Ministry arrested 3 terrorist elements, "they planned to carry out a terrorist operation targeting a security institution, trying to take advantage of the exceptional circumstances where the country is focused on fighting the Coronavirus," according to a Tunisian media statement.